« More
The Silph League Arena
Community News
Apr 6, 2020:

Sideline Report: Adventures in Live Remotes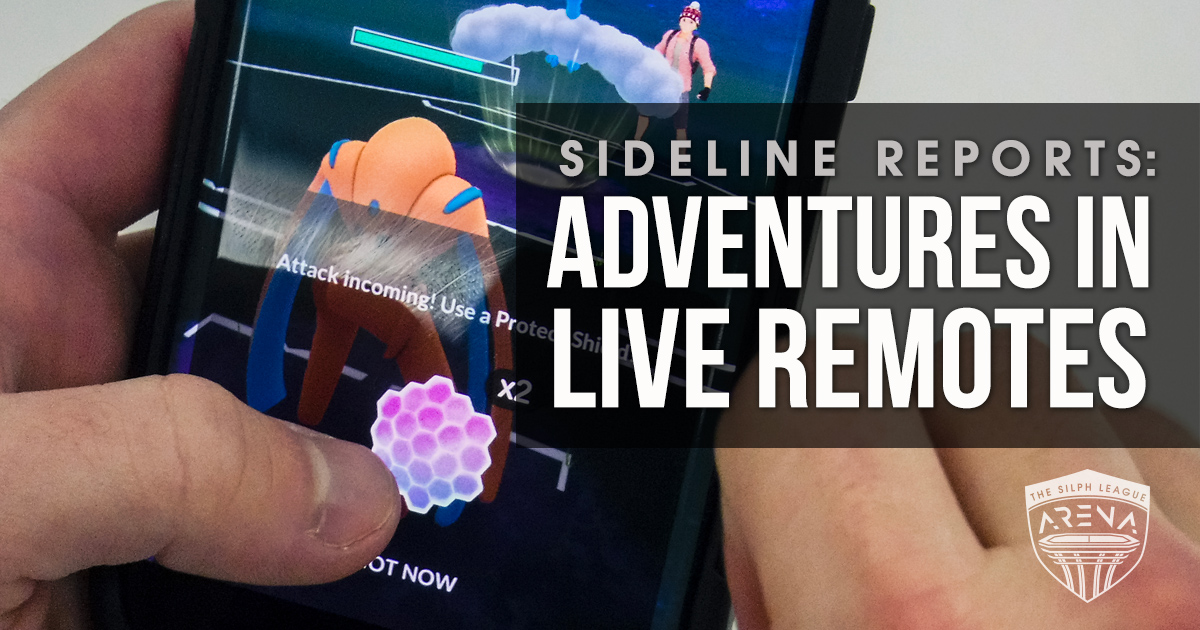 Sideline Reports is a new series where we talk with tournament winners, community organizers, and competitors like you to share stories and learn about what's going on across the Arena! This installment brought to you by Arena Reporter HeyItsPugs.
Sideline Report: Adventures in Live Remotes
I am going to start by addressing the large, virus-shaped elephant in the room. We can't escape that Covid-19 has shaken the world and completely changed our way of life. Many countries are now restricting public movement, and some (including my own) are in lockdown. Unfortunately, even our means of escape through video games have been affected, preventing us from meeting in person to have Community Days, battle in raids, or take part in PvP Tournaments. 
However, the PvP community is strong and is persevering through this pandemic. Niantic heard our voices and lowered the requirements to battle people remotely to Good Friends, so now all you need to do is send a gift and be ready to battle! The Silph Arena has extended the duration of the Toxic Cup, meaning that it lasts a full two months, giving players a chance to get a weighted cup under their belts. The Arena has also made hosting 'Live Remote' tournaments easier, allowing players to battle from the safety of their homes.
I'm a proud battler. Many of you will have seen my name in a variety of international Discord servers. I'm a Tournament Organiser for GO Stadium (Saffron Town represent!), and I battle in GO Stadium's Vermilion Town, the European Pokemon League, and the #GirlsThatPvP discord server. However, my own local community is still close to my heart. I live in Nottingham, in the United Kingdom, where we host tournaments with between 8 and 14 players at each. We're not a big PvP group at all, but we are a close-knit band of battlers and we still wanted to have our Toxic Cup. So this is a story about my small Community's first attempt at hosting a Live Remote Tournament!
Setting The Scene
There are three TOs for Nottingham – myself, Munay17, and Nic4951. Together, we plan and host one Silph-themed cup per month. We have never missed a themed cup (and in fact, have sometimes hosted multiple cups in the same month). Toxic wasn't going to be an exception, and we had planned to run a small tournament at a local family-friendly cafe and lounge, expecting a small turnout of around 10 players.
As soon as the announcement came that starting March 16th all cups would be hosted remotely, the three of us immediately started talking about what we could do instead. We had hosted a remote cup at the very start of PvP being released in 2018 (before Boulder cup) but hadn't hosted another since. Our community thrives on battling in-person, and our locals were not fans of organising mutual free time online and rounds taking several days.
We had never hosted a Live-Remote Cup. We had heard of them (specifically ONCs or One Night Cups in the EPL Server), but we were not sure if we could pull it off. Ultimately, our interest in hosting a themed cup this month far outweighed our concerns and we decided to continue with our Toxic Cup.
Promoting the cup was not a concern – collectively, we are in a variety of discord servers and we create posters for each cup, so we knew we could get the information out there. Instead, our concerns revolved around our Discord Server, the Robin Hood League. (For context, the City of Nottingham is famous for the folktale of the bandit and good samaritan Robin Hood). 
If we were to host this all in one day, we wanted to ensure that staff could easily adjudicate disputes and competitors could quickly find one another. Direct Messages work for large remote tournaments where players are familiar with how everything runs; however, this would be the first live-remote cup for some of the people in our group, so we wanted to make it as easy as possible. We took inspiration from our in-person cups, where we label tables with pair numbers (so the players in pair 3 go to table 3, avoiding people missing each other and losing time). We decided to create dedicated channels for each pair, where players could "meet" and plan their battles quickly and easily.
We also set up a Google Sheet for participants to input their friend codes next to their In-Game Names and Discord Names. All of this information would be in a read-only channel at the top of the Toxic Cup tournament category on the server, and there would be a general chat for the cup.
On The Day
The day of the tournament arrived, and we had a very good turnout of local players – 12 in total. We opened up the tournament and the Google sheet and started getting everything finalised. Roughly an hour before the tournament began, we started getting new RSVPs, and new players started joining the server. Almost immediately, our small local tournament jumped to 18 participants from quite literally across the UK and even Europe (with a player from Portugal joining us!) We realised how glad we were that we had set up the sheet and channels, as this would be our first 5-round tournament in over a year!
Something we did not account for was the potential issue of editing a sheet on mobile. The three of us admins were working on laptops from home, so editing the sheet was not an issue. For those who were purely on mobile and did not have the dedicated Sheets app on their phones, it was another story. It did not help that people were "arriving" shortly before the cup started, but we definitely should have made submitting friend codes easier and opened it earlier.
Another concern voiced by participants came from two players who were in quarantine. Because they were stuck inside and unable to go out, they didn't have any gifts. This meant that there was a concern if two players without gifts were paired up and weren't friends, they would not be able to take part. Thankfully, the majority of players did have gifts (a few of them lived at a stop or gym, lucky them!) so we added an additional column to the sheet for people to input how many gifts they had. We all agreed that the person with the most gifts would send one so that the risk of a pair not having any between them was lower.
Our Toxic Cup
The tournament began at 2 pm. We allocated 30 minutes per round, and we stuck to that time. Munay17 and I took part as competitors, whilst Nic4951 acted as referee and staff. Participants used the dedicated pair channels to exchange friend codes, plan who sent the gift, and started battling. Everyone was in good spirits, wishing each other luck, and giving a good virtual handshake for a well-fought battle – "GGs".
After two rounds, I asked people how they were finding the tournament. If there were any issues, we admins would try and correct it. However, the feedback was overwhelmingly positive. Competitors thought the tournament was running smoothly, that rounds were sticking to time, and that the dedicated channels were helping a lot:
"As someone that has played A LOT of remote tournaments over the last few days, this is running perfectly"
This was amazing to hear – the three of us had been stressing about this cup in the days leading up to it, worrying that we had forgotten something or that our inexperience at live-remotes would lead to issues. This gave us a huge boost in staffing the cup moving forward!
Players from further afield remarked that they just wanted to get involved in cups, and were happy that they could take part in ours:
"I'm not from here, I was just looking for tournaments on the Silph map and I found this, I'm definitely enjoying this!"
Moreover, people were having fun, even if they weren't completely happy with how they were actually doing:
"Loving the format, hating my team"
This speaks volumes to the process. The fact that people were *still* able to enjoy themselves, even if they weren't doing great, showed that the live-remote format was a lot of fun and brought people together. However, you could tell that our community is still in-person focussed. 
"It's good but I miss the interaction side of things. Obviously, at the moment it's a small price to pay"
The fact that we couldn't battle in person was still on our minds, and the consensus was that in-person tournaments are better. We were making do with the situation – a live-remote cup is the next best thing.
Post-Cup Feedback
Ultimately our visitor from Portugal, 28TiagoLeal, ended the tournament victorious, sweeping the cup undefeated. I came second, and another Nottingham local, Judbarker, came third. Judbarker hasn't taken part in a Silph tournament since the Boulder Cup, so it was really great to see them take part in a cup again!
I asked again for some feedback, and two competitors reached out to me to say how they found the tournament.
A key point they hit on was organisation. When hosting an in-person cup, it is easy to direct people to particular match-ups or pairings, especially when you're the admin and you can talk to people:
"I loved that everything was really well organised and clearly laid out in the Discord server." 
"I particularly liked the separate channels for pairs so that you can still chat without feel too obtrusive to other people."
Something which clearly worked in our favour was that we were prepared and made the process as easy as possible for new players to take part. Granted, we needed to open things up earlier to try and work out some of the flaws (looking at you, Google Sheets), but for the most part, it went smoothly.
Another factor was that running the tournament as a live-remote cup meant that competitors in quarantine could still take part. If tournaments were still being held in-person, these players would've had to miss out:
"I am also currently self-isolating so it was really good to get to talk to some people and get involved in something."
"Personally I didn't have any fewer issues than I often have in-person. And (despite my need for a gift) I could do it all from my bed."
Given the current situation, it was nice that people don't have to feel isolated. PvP can help us stick together and enjoy a part of the game with each other.
Our Final Thoughts
Nottingham's live-remote Toxic Cup went really well – it was our first time and we are glad we made the jump and did it. We're already discussing plans for the Voyager cup next month, and this has also given us the practice we needed in preparation for our Season Two Regionals at the end of April!
If you are a Tournament Organiser for a community and haven't hosted a live-remote cup yet, honestly just go for it! It is a lot of fun and it is incredibly rewarding. You do need to make sure everything is in place beforehand, but the more preparation work you do, the easier it will be to host. Hopefully, our experience helps others in taking that leap into hosting live-remote cups!
I wanted to end on a really important point raised by a competitor:
"Thanks again to all the admins at work for hosting this. It's a welcome distraction considering the times."
These are uncertain times. But remember, no matter what happens, we have each other and we have PvP. Stay safe, battlers.
—
« More