« More
The Silph League Arena
Community News
Sep 8, 2020:

Sideline Report: The Road to 1000 Battles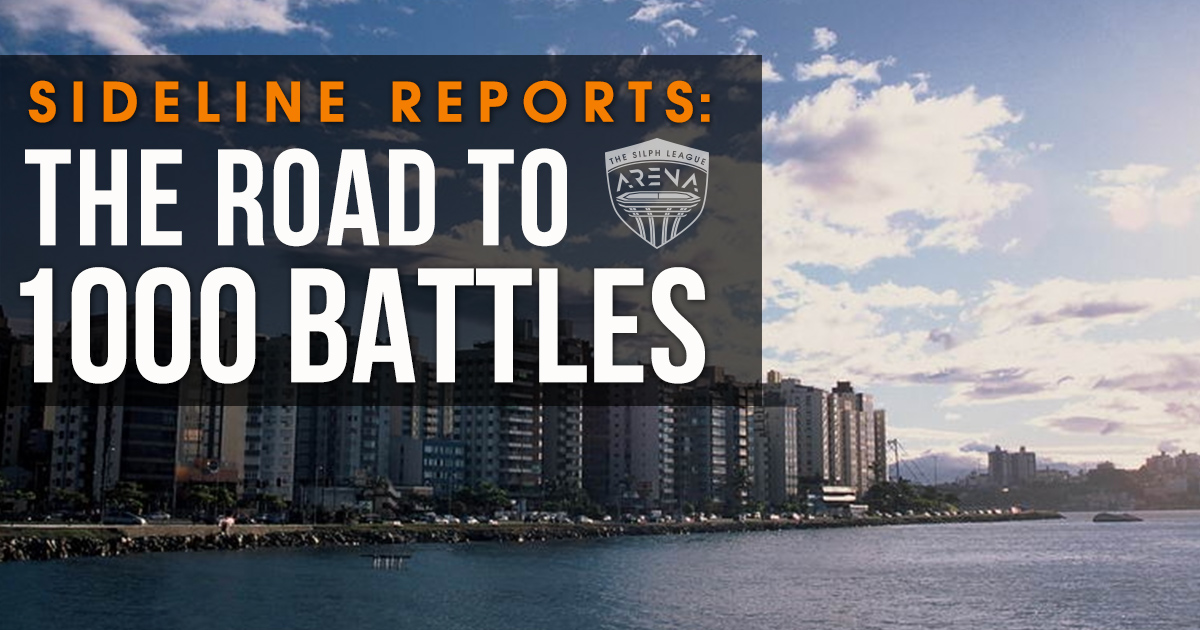 Sideline Reports is a new series where we talk with tournament winners, community organizers, and competitors like you to share stories and learn about what's going on across the Arena! This installment brought to you by Arena Reporter HeyItsPugs.
Sideline Report: The Road to 1000 Battles
September is upon us. The second season of the Silph Arena competitive PvP league is shortly coming to a close, and I think you'll all agree with me that this season has been a rollercoaster. We've spanned 10 months and an equal number of metas, each challenging us and our battle abilities. We've also had several months of intense Regionals, Wildcards, Continentals, and Worlds Championships, culminating in the crowning of our first ever Silph Arena World Champion.
Oh, and then there's the matter of the pandemic. In March 2020, the Arena shifted to hosting fully-remote tournaments to help stop the spread of Coronavirus and to flatten the curve. The community has handled this brilliantly, banding together to remain united in this difficult time. After all, when life gives you lemons, you're meant to make lemonade. With the reduction of the friendship level needed to remote battle from ultra down to good friends, there was a huge increase in Battlers taking part in large remote tournaments. Personally, I went from an average of 2-3 tournaments monthly to 8 tournaments in April (which was a big change for me).
However, today I want to discuss something that can only be described as true dedication. Finishing the season with an Elite ranking and sitting within the Top 300 in the world, one man set out on a quest to do as many tournaments as he could, finishing the season with an astonishing 1,181 ranked matches under his belt! I just had to reach out to him and ask him how he did it. So I sat down with PrazerChris to have a conversation about his journey to become the first Battler to reach 1000 ranked matches in the Silph Arena.
Setting the Scene & Season One
PrazerChris has been playing Pokemon GO from the very beginning, and immediately found the aspects of the game enjoyable, as it allowed for more competition. PvP was the natural progression for his playstyle, but his competitive nature manifested much earlier, with stats and raids:
"I was always very competitive, so I always put myself in challenges with my friends.  Before PvP, I saw an incentive to raid fewer people and drafting for Level 3 raids. In addition, I was getting a lot of XP and catches.
The release of the Trainer Battle feature by Niantic in December of 2018 was a great addition for players like PrazerChris, who wanted a way to have a more direct way to compete with their friends. Instinctively, then, he jumped straight into tournaments with his friends.
January 2019 brought with it the beginnings of the Silph Arena competitive PvP scene. PrazerChris's local group in Florianópolis, Brazil, had stayed connected to The Silph Road, and so found out about hosting tournaments and were immediately interested, as it was "a more direct, more challenging combat, involving studies and strategies." They hosted their first Silph cup – the Twilight Cup – which PrazerChris attended. He may not have won, but it sparked a love of PvP which continued to develop.
The community continued to host a themed tournament each month, and PrazerChris achieved sweeps in their Kingdom Cup and their Season 1 Regional (the first of many to come). After the regional, the community created a remote league, with those who came to the city to participate in the tournament. This, in turn, led PrazerChris to seek other ways to get involved in tournaments:
"I ended up meeting other communities and for the beginning of the second season I was already in several groups, I started joining one and the other, when I realized I was already battling with everyone and was always excited about the battles."
Season Two
PrazerChris jumped straight into Season 2 and started off strong, having joined several remote lobbies. His first two months of Season 2 were vastly more active, with 7 Sinister and 9 Ferocious cups under his belt. By December and the Timeless Cup, he jumped to taking part in 22 tournaments!
"At the beginning of the second season, I joined more groups, climbed several friendships. As there is time to reset the ultra friendship, I have a friendship worksheet with about 500 people for PvP haha! Overall, I participate in most groups in Brazil and some in Latin America".
I really should have expected this level of dedication by now, but it was still incredibly impressive. In case you didn't know, if you delete a friend from your list, your friendship level stays for 3 months. This allows people to have more than the limit of 200 set by Niantic. To make things easier in terms of organisation, PrazerChris stuck to communities that had shared characteristics – be it language, country, or region. This changed somewhat with the remote battle changes I discussed earlier…
During the pandemic, PrazerChris participated in countless tournaments around the world, which he attributes as making the goal of 1000 battles much easier. Now, I'm going to give you some tournament numbers for the start of 2020, to just show you the level at which he battled:
Fusion – 30

Rose – 25
Toxic – 21
Voyager – 18
Forest – 20
Sorcerous – 36
PrazerChris achieved his 1000th battle during his second Catacomb cup on July 1st, 2020. With the reduced friendship requirement, he saw this as an opportunity to achieve something that he had wanted to do for a while:
"It started as something natural and in the end, it became an ambition, a desire to beat the 1000 mark, as the first in the world. The goal was not only to make 1000 battles as a significant number but trying to maintain a high level."
You can see the point at which he decides to go for 1000 battles, with the large increase in battles during Sorcerous – before then, he consistently did around 20-25 cups a month. However, once he had set his sights on his goal, he stopped at nothing to achieve it.
Hitting 1000 Battles
So, what does it actually take to reach 1000 ranked battles in the Arena? PrazerChris explained that it took a lot of organisation, dedication, time, and effort. But it also challenges you to constantly see the fun in battling:
"It is difficult, it took a long time, since the beginning of this season I have participated in several tournaments, there are days that I do 15 battles for 15 different tournaments.  But to do that you have to like the PvP, you have to familiarize yourself with the themes that Silph does, so that it doesn't get boring and monotonous, that's why most of my tournaments I use different teams, to be able to think how to use another team."
In setting this goal, he knew that he needed to continue to make it fun and engaging for himself. If this means running different teams, either to shake things up, to try something new, or to improve on a solid team, then those are important changes to make. And, as he noted, this had the desired effect, leading him to enjoy each meta in their own right:
"As I play the same theme several times, if I don't like it in the beginning, I start to like it over time"
Moreover, for PrazerChris it wasn't just the achievement that kept him going, but also the friends he met along the way and the fun memories he made. So, for some advice for those who want to achieve the same, he says:
"Whoever wants to reach 1000 ranked battles, join groups, meet people, exchange knowledge, don't make PVP an obligation to reach your goal, have fun reaching your goal.  The third season is coming, and new challenges as well."
Conclusion
Listening to PrazerChris' story was fascinating. Beginning with a love for PvP, the goal of 1000 battles started as a potential and shifted to becoming a target to not only reach but to exceed. By joining multiple online communities, expanding his friends' list, and ultimately using the remote battle features to his advantage, PrazerChris saw an opportunity and took it. The level of dedication demonstrated is truly admirable. Being a part of multiple online lobbies, I wanted to know if he still took part in live tournaments before the shift to purely remotes:
"Yes, before the pandemic I was playing live tournaments, as the emotion was always greater."
There's something about in-person tournaments which remotes can't quite achieve. Shifting to remote tournaments for Season Two was certainly the right call, but I think I speak for a lot of people who hope to one day return to in-person tournaments when it becomes safe to do so.
Finally, having played over 1000 ranked matches, I really wanted to know what his favourite meta was:
"Without a doubt the theme I liked the most was Fusion, and I managed to run several different teams."
Fusion was designed as a meta which allowed a great variety of teams, both in terms of low stardust cost and general accessibility of eligible Pokemon. The fact that it was his favourite meta explains why he took part in 30 tournaments, whilst his average number of tournaments per month sat around 21.
So, what can we take away from this phenomenal story? In the end, the game is what you make it. If you have an ambition and a goal, the best course of action is to strive for it and see what you can achieve. But achievements cannot purely be attributed to a sole person – this feat is proof that in spite of what 2020 has thrown at us, the PvP community has banded together and done something truly incredible. It takes a lot to organise tournaments on such a massive scale and keep everyone involved informed.
Enjoy the rest of the off-season, battlers. Season Three is coming, and I don't know about you, but I'm incredibly excited to see what it will bring.
– Pugs
__ __
You can find PrazerChris on Twitter at @PrazerChris, as well as on YouTube and Twitch on the MagnisPvP channel, which is in Portuguese.
« More