« More
The Silph League Arena
Meta Insights
Mar 5, 2020:

Master League Meta Snapshot - 5 March 2020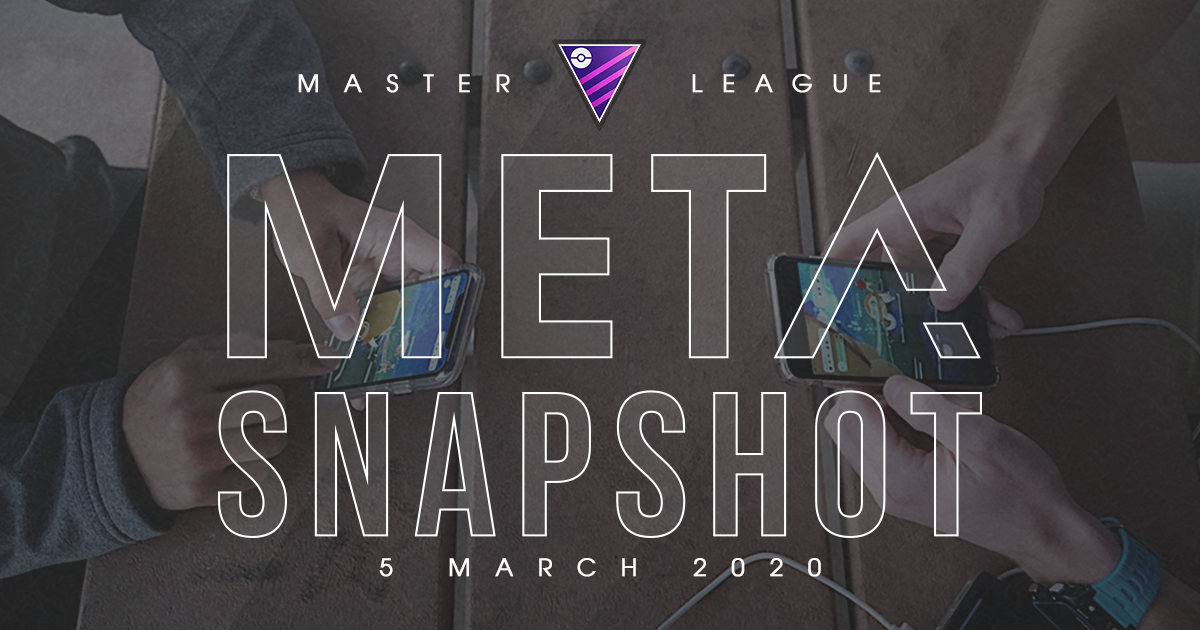 GO Battle League rotated to Master League earlier this week and we want to give you an early analysis on what players are doing in their climb to Rank 10! Once again, we have had great support from the Silph Research Group! Thanks to their new research project "Indigo League", data has begun pouring in to help identify the most popular picks in Go Battle League, and give competitors better info about what to expect and how to prepare! Without further ado, let's deep dive into the data!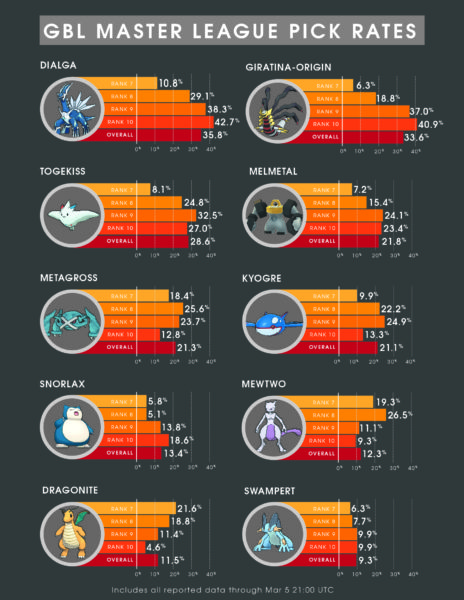 The Master League Core: Most Popular Pokémon
While we were expecting a common pattern for species used through the ranks, with Dialga, Giratina Origin, and Togekiss as the main core of Master League, the truth is that, even more than with Ultra League, we can clearly see different metas from Rank 7 to 10, and the breakdown is as follows:
Rank 7 brings the most unique meta. Rhyperior and Tyranitar with a ~24% presence are the most popular picks for Master League. But why? We could say these players have fewer resources, but also, Tyranitar is a favorite choice not only for raids, but for almost everything you can use it in, and GBL is not an exception. Behind them you have Metagross, Machamp, Mewtwo, and Dragonite, which are a bit closer to the meta we see in the rest of the ranks. We strongly recommend that, if you are placed in Rank 7, you bring at least one counter for Rhyperior and Tyranitar, Machamp would be a great choice!
Rank 8 gives us another particular pick in the top: Mewtwo. Again, this isn't a surprise since Mewtwo is by far one of the most popular Pokémon ever, and of course, it has a great moveset, amazing stats, and a very nice shiny (oh yeah!). It has a 26.5% presence in Rank 8, just behind Dialga, and followed by Metagross, and Togekiss, which aligns more closely with Ranks 9 and 10.
Ranks 9 and 10 are what we were expecting for Master League, Dialga as the favorite pick, followed by Giratina Origin and Togekiss as the main core of the meta. However, Rank 10 is much more concentrated in terms of the top 3 picks, where Dialga and Giratina Origin have a ~41% presence each, which means, in at least 2 out of every 5 matches you will be facing one or both of them. This also means that the rest of the meta has lower presence, forcing multiple mirror matches and even mirror trios.
We can give many explanations for these patterns, but stardust and candy costs, availability, and level of competition are the main ones. While you get heavily punished in Rank 10 if you don't have the main core, in Rank 7, you have multiple choices and you still can do well using your favorite Pokémon.
Team Compositions: Multiple Strategies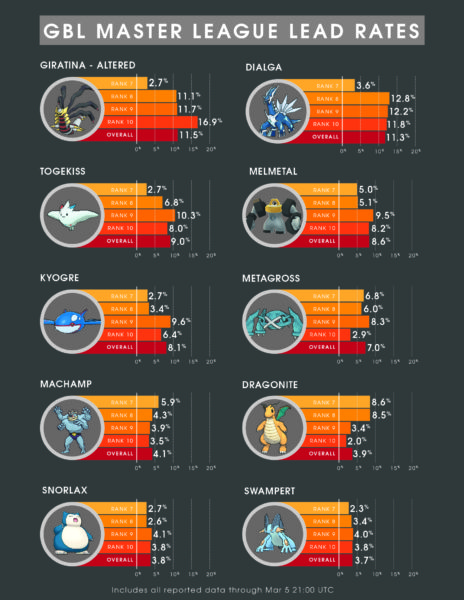 As we continue digging into the data, more and more things surprise us, in this case, team compositions. While the meta is much more diverse in terms of the number of relevant picks available, the most popular trio in Master League is quite dominant. With almost 2814 data points, we have 1294 different teams of 3 reported, most of them composed by the main core of Master League.
Most Popular Teams
Unlike Ultra League, we have a composition with a significant amount of play in Master League's Meta: Dialga, Giratina Origin and Togekiss has a 4.4% presence, making this trio almost three times more popular than the favorite trio for Ultra League.
Around 2% presence we have: Dialga, Kyogre and Giratina Origin; and Giratina Origin, Melmetal and Togekiss.
Most Popular Lead Species
In terms of opening matches, Giratina Origin and Dialga are the main species, both with a 11% pick rate, followed by Togekiss with a 9% pick rate, and after the core of Master League we have Melmetal, Kyogre, and Metagross,.
---
Parting Words
Preseason is almost over and GBL's Season 1 is around the corner, so it's time to get a bit more serious about the competition, understand the meta, and bring your strongest Pokémon to the challenge. Expect us to unveil more about GBL when we get closer to the end of this preseason.
As usual, the Research Group and Arena Team will continue working together to bring this series of articles to you in future installments, unveiling the picks, strategies, and interesting facts for each rotation. See you next time!
What else would you like to see in our Meta Snapshots? Leave a comment on our social platforms, reddit or even Discord, we really want your feedback to help you do better in GBL!
– Head of the Meta Team Krydos –
---
Interested in joining the Research Group and contributing data to the Indigo League Project? Join here: https://discord.gg/dmvJy7X
« More