« More
The Silph League Arena
Arena Update
Jul 14, 2020:

It's Time for the 2020 Continental Finals!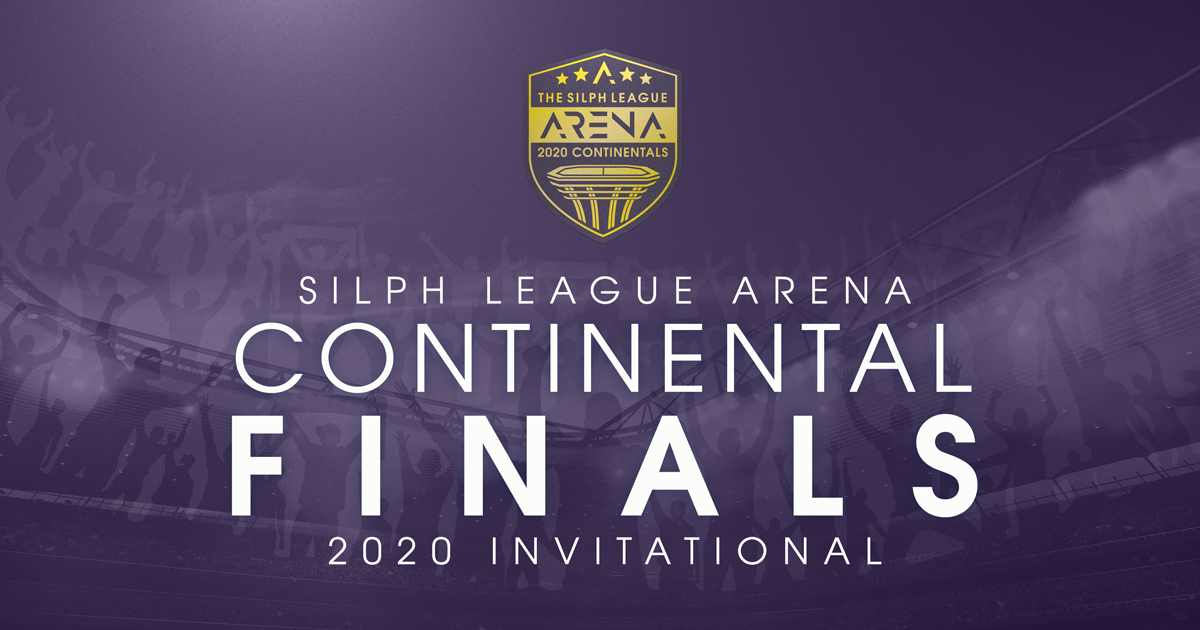 The time has come for the Continental Finalists to face off in their fiercest challenge yet! This Saturday, each region will compete in a double elimination bracket for the Continental Finals. The winner of each bracket will claim the title of Continental Champion and qualify for the first ever Silph Arena World Championships in August!
Continental Finals Format and Schedule
Each group of Finalists will participate in a double elimination bracket within their region. The bracket matchups will be determined by Competitor seeding, with the seed 1 playing seed 8, 2 facing 7, 3 against 6, and 4 versus 5. Losing one round does not disqualify you in a double elimination bracket, instead you have a chance at redemption by battling through an elimination bracket! The Championship match will be played between the winners of the two brackets.
Continental Finals Schedule
All four Finals events will take place on Saturday, July 18th, at the following times:
| | |
| --- | --- |
| Continental | Time |
| APAC | 1 pm JST (UTC+9) |
| Europe | 1pm CEST (UTC+2) |
| Latin America | 1pm CLT (UTC-4) |
| North America | 1pm CDT (UTC-5) |
Catch the Finals Action on Twitch!
Want to see the Championship battles unfold? We'll be streaming each Continental Final on a 3 hour delay with live shout casting! In addition, the Arena will also have coverage of each matchup on our Twitter feed and Discord server. Check out the stream schedule below:
APAC Continental Finals – 4pm JST (UTC+9)
Casters ThoTechtical and Herovange cover the APAC finals with input from analysts Sosaflo and WildSusanBoyle on the Silph Arena Twitch Channel.
European Continental Finals – 4pm CEST (UTC+2)
Join Zyonik, 2OButters, and ThoTechtical, along with analysts ElisaNoble and Riky1990 on the Arena Twitch channel for the European Finals.
Latin American Continental Finals – 4pm CLT (UTC-4)
Swaggron333, MrJuandersen, and Sonorman for the Latin American Finals on Swaggron's channel.
North American Continental Finals – 4pm CDT (UTC-5)
Kieng, AJ Pilot, and 2OButters cover the last Finals event, with analysis from PvPoke, Alfindeol, and 4theBattles on the Silph Arena Twitch channel.
Continental Finals Rules and Judging
The Continental Finals will have a few rule differences from normal Arena events:
RECORD ALL BATTLES: All battles MUST be recorded in case of disputes. Judges will be unable to make a ruling in case of a technical malfunction if there are no recordings of the battle. In addition, competitors must enable settings to show all touches on the screen recording, or enable the external microphone so taps can be heard on the recording. If you are asked to provide a recording during a dispute and are unable to, you may be issued a loss.
COMPETITORS WILL NOT SHARE VIDEO OR DETAILS DURING THE TOURNAMENT: To protect player hidden information, competitors will not release video of any battles. Competitors found to be streaming, on voice calls, screensharing, or otherwise communicating tournament information with others during the tournament will be immediately removed.
JUDGE'S CALLS: Tournament Staff will use their judgement to make the decisions that are best for the situations at hand. Calls made by an official Judge in any dispute or situation are final.
SPORTSMANSHIP: Continental Competitors will be held to a high standard of sportsmanship during this prestigious event. Name-calling, personal attacks, insults, and other unsportsmanlike behaviors can result in losses or removal from the tournament.
TECHNICAL ERROR REMATCHES: In the event that a rematch is necessary, competitors will be allowed to pick new battle teams and leads. (This is only for Continental Tournaments).
Each Continental Final will be staffed by a team of at least 5 judges. All judges will be involved with settling disputes, and will discuss each situation thoroughly before issuing a decision. Judging teams will be made up of both Arena Team members and various volunteer Tournament Organizers.
— —
What a weekend this will be! We can't wait to see these incredible competitors face off and the epic battles that will unfold! We wish all of the competitors luck, and we hope you'll tune in to cheer them on!
– The Arena Team –
---
2020 Continental Finals Competitors
Cheer on the Continental Finalists from each region, listed by their Finals seeding here:
« More