« More
The Silph League Arena
Arena Update
May 14, 2021:

The 2021 Regional Invitationals Competitor Information (And Continental Championships Criteria!)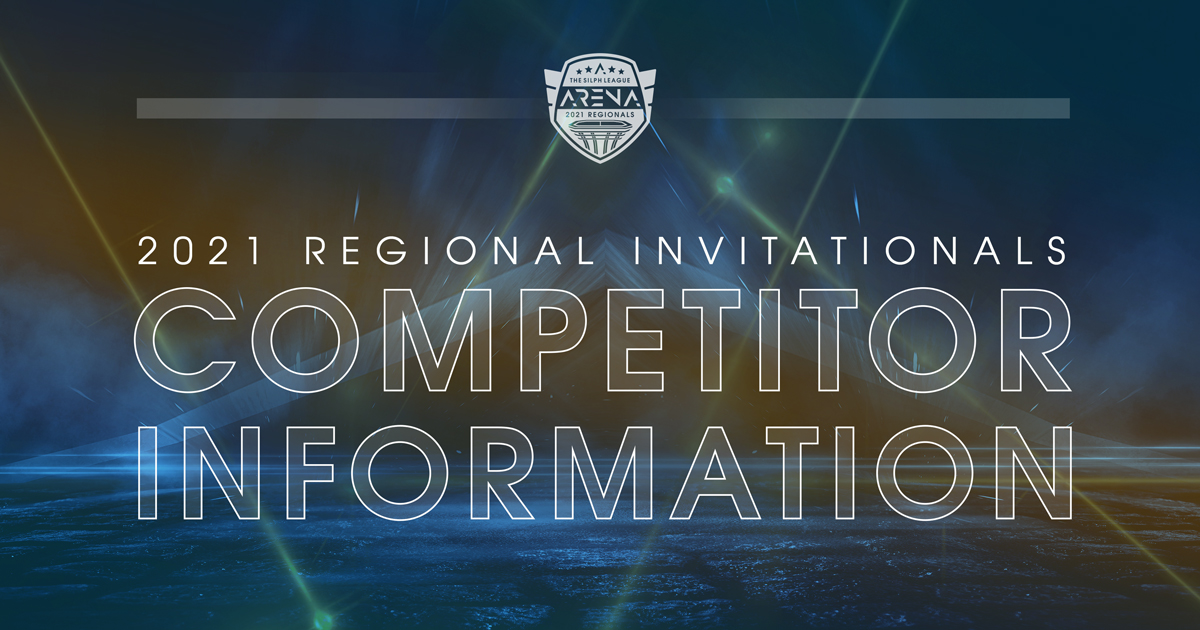 After months of intense battling, the time has come for the fiercest competitors in the Arena to showcase their skills! These competitors have now received a silph.gg notification from the Arena inviting them to the next stage on the path to the Championships…
The 2021 Regional Invitationals!
Event Information
Qualifying competitors should read all information carefully!
Checking Invitation Status
To check if you've earned an invitation to the Arena's 2021 Regional Invitationals, log on to silph.gg and visit the homepage (click on the Arena crest in the site navigation). Invited competitors will see a red notification icon in the "ALERTS" item in the site menu with their invitation when logged in.
*Note: you may need to log out and back in to see the notification.*
Where to Attend
The 2021 Regional Invitationals will be held as live-remote tournaments, just like the 2020 Regional Invitationals. This means that the event will be held virtually and completed in a single sitting (30-45 min rounds). 
Competitors should attend the Regional closest to where they live or battle most frequently. In extenuating circumstances, some battlers may need to attend a Regional outside of their home region, but this is the exception – not the rule! Invited competitors will have until May 23rd, 2021 to RSVP for their Regional event.
Regional Champions will go on to represent their Region in the next level of elite combat. Find your Regional Invitational on the 2021 Regionals Map!
The Regionals Meta
2021 Regionals will use the same meta as the Arena's (soon to be announced) June Cup. However, it will be a separate 3x weighted opportunity, and have its own special trophy for your Travelers Card. Competitors should expect to compete in both Regionals and the June Cup to receive both trophies and weighted opportunities.
Looking towards the Continental Championships!
Only the strongest competitors will progress to the Continental Championships. Here's how you can earn a place:
Regional Champion: The Champion from each Regional Invitational will earn an invite to the Continental Championships.
Top Competitors from Large Regionals: Regionals with more than 16 competitors will earn a second Continental invite. Additional invites can be earned for every 16 more competitors at the Invitational

17-32 competitors = 1 additional invite
33-48 competitors = 2 additional invites
49-64 competitors = 3 additional invites

Top Your National Leaderboard: The #1 competitor on each National Leaderboard will earn an invite.
Global Rank Cutoff: A (very) small number of competitors above a certain rank on the Global Leaderboard will earn an invite.
Win an Open Qualifier Tournament: (More info to come…)
Win an Arena Showdown: Winners of the prestigious and competitive Arena Showdown Tournaments will earn an invite.
In the case of a tie for one of these places, the Arena will follow a specific tiebreaker formula. Ties for the 1st invite/Regional Champ title will be broken by a single-elimination bracket. Ties for the 2+ invite slots will be determined by battle wins, then Buchholz, then Global Rank.
The road to becoming the World Champion is long and treacherous. Will you prove yourself and ascend to the top? There are many paths to the Championships, prepare yourself and we'll see you at the summit!
« More