« More
The Silph League Arena
Arena Update
Aug 11, 2022:

2022 Continental Championship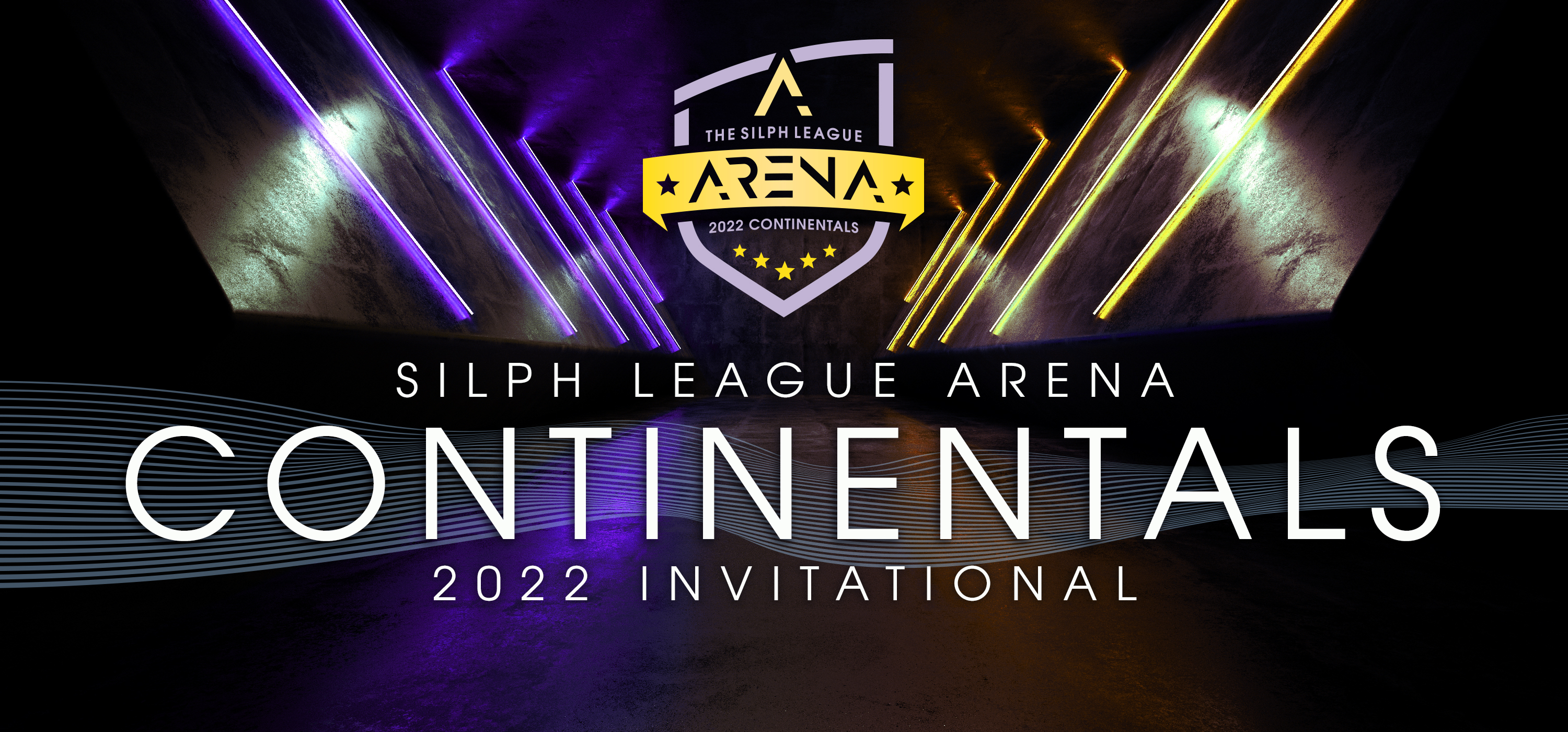 The top battlers in each region around the world have clashed to see who among them is the superior battler! Now it's time for the best of the best to come together to test their skills in the 2022 Continentals! Here's everything you need to know to follow the action and cheer you favorite competitors on to victory!
CONTINENALS SCHEDULE
The 2022 Continental Championships will be an all out Swiss-style brawl! The tournaments will use the a new meta specially designed for this event.
The top finisher from each Continental will receive an invite to the World Championship (date to also be announced soon).
The top finisher will be determined by total points, with ties broken by battle win count.
APAC – SEPTEMBER 3RD @ 1:00PM JST (UTC+9)
The weekend starts with 29 skilled competitors from the Asia-Pacific region facing for their chance at the Continental Champion title!
US AND CANADA – SEPTEMBER 3RD @ 10:00AM PDT (UTC-7)
This Continental tournament will feature the strongest 69 competitors in the US and Canada battling it out to prove their skills!
EUROPE AND AFRICA – SEPTEMBER 4TH @ 12:00PM BST (UTC+1)
82 talented competitors from the European and Africa regions have earned their chance at the Continental Champion title!
LATAM – SEPTEMBER 4TH @ 1:00PM CLT (UTC-4)
Later in the day, 66 Latam competitors will battle it out to prove their skills on the world stage!
All competitors will be sent invitations via Silph.gg with details about event through this next week, as well as how join the official Silph Arena Tournaments server so they can communicate with Arena staff and their opponents during the tournament.  Be sure to read these messages carefully!
CONTINENTALS META
Continentals competitors will battle in a new meta specifically designed to showcase their skills in the Pick 8, Ban 2 format. Teams should be composed of unique Pokémon typings. Up to two Pokémon on the battle team may have monotyping, so choose wisely!
PICK 8, BAN 2
The Continental Championship will also use the 'pick 8, ban 2' format. Each competitors will build a Battle Team of 8 Pokémon instead of the standard 6. Before battling each round, competitors will pick 2 of those Pokémon to ban for the bout.
Bans can be made and submitted on the silph.gg battle screen anytime between Battle Teams being revealed and the start of your battles. Neither battler will see the chosen bans until both sides are submitted.
CONTINENTALS RULES AND PROCEDURES
The 2022 Continental Championships are a special event unlike any other in the Arena. Therefore, there are a few differences to the Rules in this event that set it apart from normal tournaments.
RECORD ALL BATTLES: All battles MUST be recorded in case of disputes. Judges will be unable to make a ruling in case of a technical malfunction if there are no recordings of the battle. If you are asked to provide a recording and are unable to, you may be issued a loss.
COMPETITORS WILL NOT SHARE VIDEO OR DETAILS DURING THE TOURNAMENT: To protect player hidden information, competitors will not release video of any battles until the conclusion of the tournament. Competitors found to be streaming, on voice calls, screensharing, or otherwise communicating tournament information with others during the tournament will be immediately removed.
REFEREE DECISIONS: Arena Referees will use their best judgement to make the decisions that are best for the situations at hand. Calls made by an official Referee in any dispute or situation are final.
SPORTSMANSHIP: Continental Competitors will be held to a high standard of sportsmanship during this prestigious event. Name-calling, personal attacks, insults, and other unsportsmanlike behaviors can result in losses or removal from the tournament.
CONTINENTALS PERFORMANCE AND THE ROAD TO WORLDS
The Continentals Championship tournament will be ranked and competitor performance will impact invites to the World Championship. There are 32 seats for Worlds ready for the taking. The winner from each Continental tournament will secure one invite to Worlds. Then a varying number of Continental competitors and the top Global Leaderboard ranked battlers will be invited for the remaining 28 seats. Stay tuned for confirmation on who will qualify.
FOLLOW THE ACTION!
The Arena will be keeping you up on all of the action through our various channels. Follow us on social media for live updates each round, information on the competitors and their teams, and more! Join our Discord server to chat with other PvP enthusiasts in a dedicated Continental Championships channel. You can find links to our platforms here:
— —
After a Season full of incredible battles and epic victories, the Championship Season is finally here! Who will claim glory and emerge victorious? Be sure to give your region's representative a shout and cheer them to victory!
– The Arena Team –
---
2022 CONTINENTAL COMPETITORS
The following competitors have qualified and will be sent an invitation to compete in the 2022 Continental Championship. Find your Region's representative and let them know you're cheering for them!
| | | | | | | |
| --- | --- | --- | --- | --- | --- | --- |
| APAC | | US AND CANADA | | | | LATAM |
| Barthegamer | | 3174375355 | | 13gioppy37 | | 4nclr3y |
| Annab280 | | AShadyEquation | | 23EJB | | Aarm9403 |
| Azeyrox | | BigDudeK78 | | ArceusAurelius | | Alllhuka |
| ba97mber | | doonebug97 | | Arsnyo | | Andycobe |
| BeatzBoyFTW | | TheCU2 | | ASprescelto | | Arrohh |
| chiodoSH01 | | 0EL1TE0 | | AurumKodEXo | | Baaby7rc |
| Emretrkdmr61 | | 2016tdouglas | | Bassiix | | Bastii170 |
| franzwithaZ | | AashishS | | BIBILICIOUSS | | bellcross87 |
| Hara1zer | | Abhinav7998 | | BJlacTbMockBe | | BenjaPRO0205 |
| Iamrealaj | | aronicman | | boem20 | | BoxNL |
| Innerbloom94 | | B0pper | | Bomber00ne | | Bryanderson0511 |
| JinkProNyuSoe | | Balk88 | | Bomberlain28 | | BryceMS2602 |
| MrMcCalvin | | beeeach7 | | Bulbarna | | Camilo2016 |
| o0TrapPain0o | | BonechipAK | | Calum0973 | | charlyrvl |
| One21AS | | bosoxguy7 | | CamaroBro097 | | Charming2Legend |
| PurpleCandy22 | | Breezy12345 | | Catheadeagle15 | | Chulistyle |
| qILOEb | | Burnobus | | Clauduccino | | CodyAlonzo |
| RicFlareon | | CalebPeng | | CLeonardo77 | | CrisRodgz27 |
| RogerChen40 | | CaspianPike | | DanneWWW | | Damasoz2 |
| sazabies | | Cornucopolis | | DCVulpix | | Diequi26 |
| Shagunbohra | | DariusPent | | deviq | | Dneyax |
| ShinLena86 | | DragOns1lk | | DockuSama | | dzamora612 |
| Stumpy2517 | | FreezingSunn | | DrrDave | | Emili0oxxx |
| T000PIK | | GinoThanks | | dusanristic19 | | Huntergust04 |
| That1DarnGuy | | GiraTinaBelcher | | Dzharizard | | InosukeSC |
| VroomVroomPow | | GundamNightAir | | Ellamero | | Inthewilson |
| Wazp13 | | Guttz56 | | EmaLange23 | | Jartavia |
| YACOBERVITCH | | H1tuh4rd3 | | EpicSnail247 | | JavierV20 |
| Yekai0904 | | HotPoket777 | | Fnuskepjuske | | JersonSanks |
| | | HouseStark93 | | Fr43ka | | kinkinvegaPy |
| | | HurricaneKaz | | Galaxkobolten | | LaloLG7 |
| | | Irishluck10 | | Greenslash29 | | Leanbernal10 |
| | | JadenRuan | | Guidok1996 | | leugim4321 |
| | | jaysfan55 | | Hache2390 | | LNDsAureo |
| | | Jmillz113 | | Hareluyaboyz | | LNDsBernardo |
| | | Jurunja | | HELSENBERG24 | | luanvitozxc |
| | | KevinSaludares | | IbiQerPvP | | Lunapxp |
| | | KindaCuteTho | | Inadequance | | MaderaJr |
| | | kreasor | | Iononson | | MarkEvanz95 |
| | | LKflynn | | JBGWinsenHSV | | MasterCalzada |
| | | llsemii | | joqqs13 | | MongoKetchum |
| | | LyonsDen716 | | Josip01337 | | MrKendrick94 |
| | | MatthewBrewer | | kimkech | | |
| | | MisterBabushka | | Klibbi | | NachoMalikBK |
| | | Moonliiiiiight | | LIN0nfirE | | OnlyAggas |
| | | mynameisshazam | | Lorenzoleeuwe | | PetAguila |
| | | NIGHTMARE1016 | | Luall48 | | Red8192 |
| | | NomLikeALax | | MATT3L21 | | REDxDJaquez98 |
| | | Panick23 | | Matyzs123 | | Richie1409 |
| | | PartyMarty18 | | Maxy1000000P | | Rivalux |
| | | PartyPandaPo | | Nesabethan | | Salzami69 |
| | | PeterVonBernal | | Nickname29585 | | Soltakerr |
| | | Piscivore | | NoxiiousWS | | Soyer98 |
| | | PokeBallN | | Paulasha97 | | SpartanL17 |
| | | R6RacingR6 | | Paulwax | | TapiaCorp |
| | | RakingStraw | | peppco | | ThespianOff |
| | | Reis2Occasion | | RobySidor | | VaskebjornX320 |
| | | Rhyblet | | Sandodou | | Ventuski |
| | | SageShadows | | SC0TT95 | | Verdugo20cm |
| | | Shadowmimikyu20 | | Scafo99 | | Vitorl3o |
| | | ShinyHunterBen | | Shep88 | | Waguin7 |
| | | SpookySkorupi | | Sicriss | | wlad41 |
| | | tfos11 | | Siruca | | xJoaoVictor2006 |
| | | TheC2U | | SjonaNL | | xNAMZUGx |
| | | Tonyjr3850 | | SkopoO | | Yerkoski |
| | | Toshi9227 | | Skratadoodle | | Zapa9 |
| | | TXRangersFan | | Sneo1313 | | |
| | | x3TheGOAT3x | | Statastan | | |
| | | xXRubixMasterXx | | Stonecollection | | |
| | | | | Systler | | |
| | | | | Tatti336427 | | |
| | | | | TheOstin | | |
| | | | | Thidrekr | | |
| | | | | TontonBatteuse | | |
| | | | | udmmi | | |
| | | | | vaNNiii | | |
| | | | | VENlVidiVICl | | |
| | | | | vTenacity | | |
| | | | | WrightForce2 | | |
| | | | | xFrankTh8Tankx | | |
| | | | | xxHope7xx | | |
| | | | | Zephymastyx | | |
« More