« More
The Silph League Arena
Arena Update
Jul 22, 2021:

Arena Factions: Season 1, Tiers, and More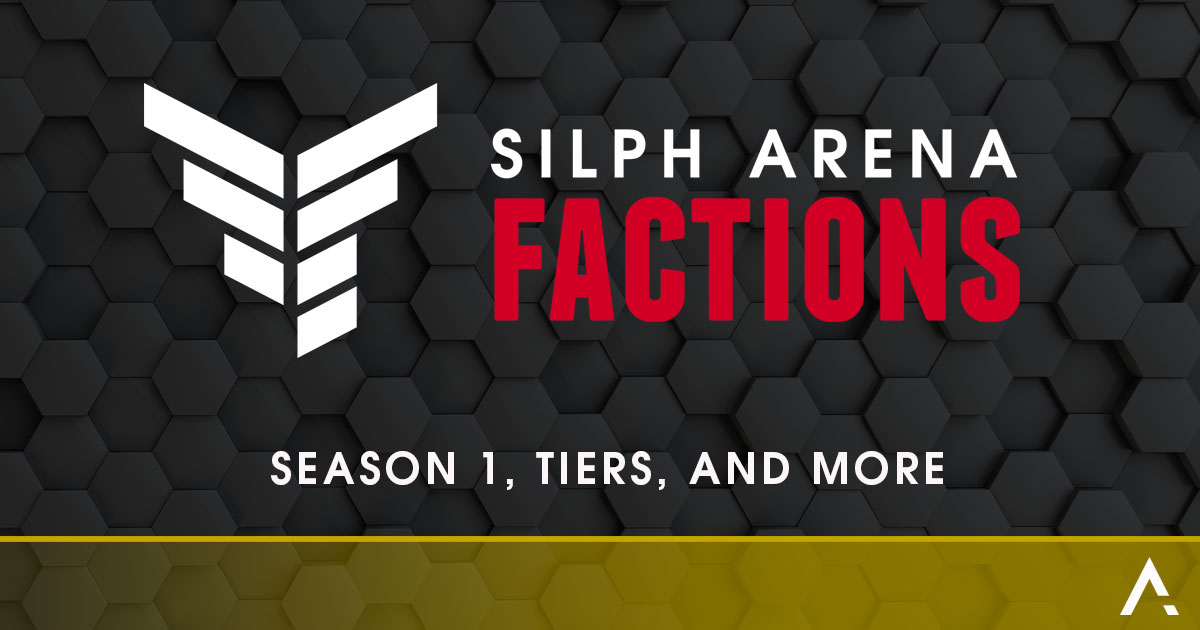 The Factions Preseason has come to a close after 2 exciting Cycles! We are amazed at the level of strategy and teamwork displayed in these first Cycles, and can't wait to see how the competition continues to develop.
---
Continuing to the Regular Season
Factions Season 1 will feature 3 Cycles, each being 7 bouts (weeks) long. Factions will be organized into tiers (Qualifying, Open, Bronze, Silver, etc.), with the Qualifying/Open Tiers competing in Swiss style bracket, and upper tiers competing in a Round Robin bracket. At the end of the 7th bout, the highest performing Factions in each tier will have their chance to be promoted to a higher tier during the Relegation Bout.
The Season doesn't end after Cycle 3! After the final Cycle, competition will continue with an extra special post Season event. More details to come!
Signing Up for Season 1
To help us accurately sort Factions into their respective tiers, the sign-up process for the next Cycle will be slightly different than during the Preseason. Here's how it will work:
Owners of participating Factions will express their intent to compete by clicking the "I'm Interested" button on their Factions Page before July 30th.
The Arena will sort all Factions into their tiers and notify owners by August 2nd.
Owners will have from the 2nd until August 9th to collect their teammates and RSVP for the tier's Cycle on the Cycles Page. Factions will be expected participate in the region set on their Factions page – so make sure those match!
Bout 1 begins on August 10th!
Note: expressing intent to compete is making a commitment to participate in the Cycle. Factions that fail to fully complete the sign-up process will be barred from competing for a full Cycle and automatically dropped to the Qualifying Tier.
Bout Schedule Updates
The weekly bout schedule has been updated for Season 1:
Monday: Break Day! Mondays will serve as a break between bouts. Do your laundry, take a nap, and get yourself pumped up for your battles!
Tuesday: Set Your Positions. Once you receive your opponent, your Factions will have 1 day to decide whether to swap any of your teammates to a new position.
Wednesday: Set Your Battle Teams. After positions are set, your Faction will have 1 day to make any changes to their rosters of 6 Pokémon. Competitors only need to re-register if you're making changes to their roster, the system will automatically register the same team as the previous bout—as long as you are playing the same position as the previous week, and have not been moved from your slot—even if you are replaced into the same one..
Thursday–Sunday: Battle! After rosters are set, lineups will be revealed to your opponents and the battles can begin! The rest of the week is dedicated to scheduling with your opponent and completing your matches.
Faction Tiers
During the regular Season, Factions will be organized into different tiers based on their skill level. There will be a maximum of 7 tiers in each region, with most tiers containing 8 Factions.
The top 5 tiers will have 8 Factions each and compete in a Round Robin style bracket. The last tiers, Open and Qualifying, will be each be made up of 50% of the remaining Factions and use the Swiss system to determine their weekly matchups. These last two tiers may be scaled or eliminated as participation demands, and some of the lower round robin tiers may be removed in less populous regions.
Promotion and Relegation
At the end of each Cycle, the highest performing Factions in each tier will have their chance to be promoted to a higher tier, while lower performers will be relegated down. In most cases, the top 2 Factions (1st and 2nd place) will automatically move up and the bottom 2 (7th and 8th place) will move down. The 3rd place Faction will battle the 6th place Faction in the tier above them in a Relegation Bout to decide if they move up or stay in place. 4th and 5th place Factions automatically stay in their tiers for the next Cycle.
The exception to this rule happens in the Bronze tier. In order to promote more opportunities to move into the upper tiers, the top 3 Open Tier Factions will automatically be promoted to the Bronze Tier. In addition, the top 50% of Factions in the Qualifying Tier will be promoted to the Open Tier, where the bottom 50% of Open will return to Qualifying.
Sorting into Tiers
Factions will be sorted into their initial tiers based on their performance during the Preseason Cycles. To do this, we'll take an average of scores from both Cycles, with a 0.75x weight applied to the higher score, and a 0.25x weight applied to the lower, both in total points and in game wins, with 0.5 points applied for ties prior to weighting. This will allow Factions to be judged by their best performance, and give an advantage to teams participating in both Preseason Cycles without making it impossible for late-joining factions to remain competitive. Once these scores have been tallied, Factions will be placed in their tiers!
Remember: skipping a Cycle or switching regions will automatically place you in Qualifying Tier the next Cycle you compete in, no matter what your previous tier was. Think carefully before taking a Cycle off!
---
The Preseason competition was fierce, but it was just the tip of the iceberg! We can't wait to see the epic battle that will unfold during the upcoming Cycles. It's time to gather your team and train hard, good luck!
« More