« More
The Silph League Arena
Arena Update
Jul 29, 2020:

Revisit your Favorite Cups from the 2019-20 Season in August!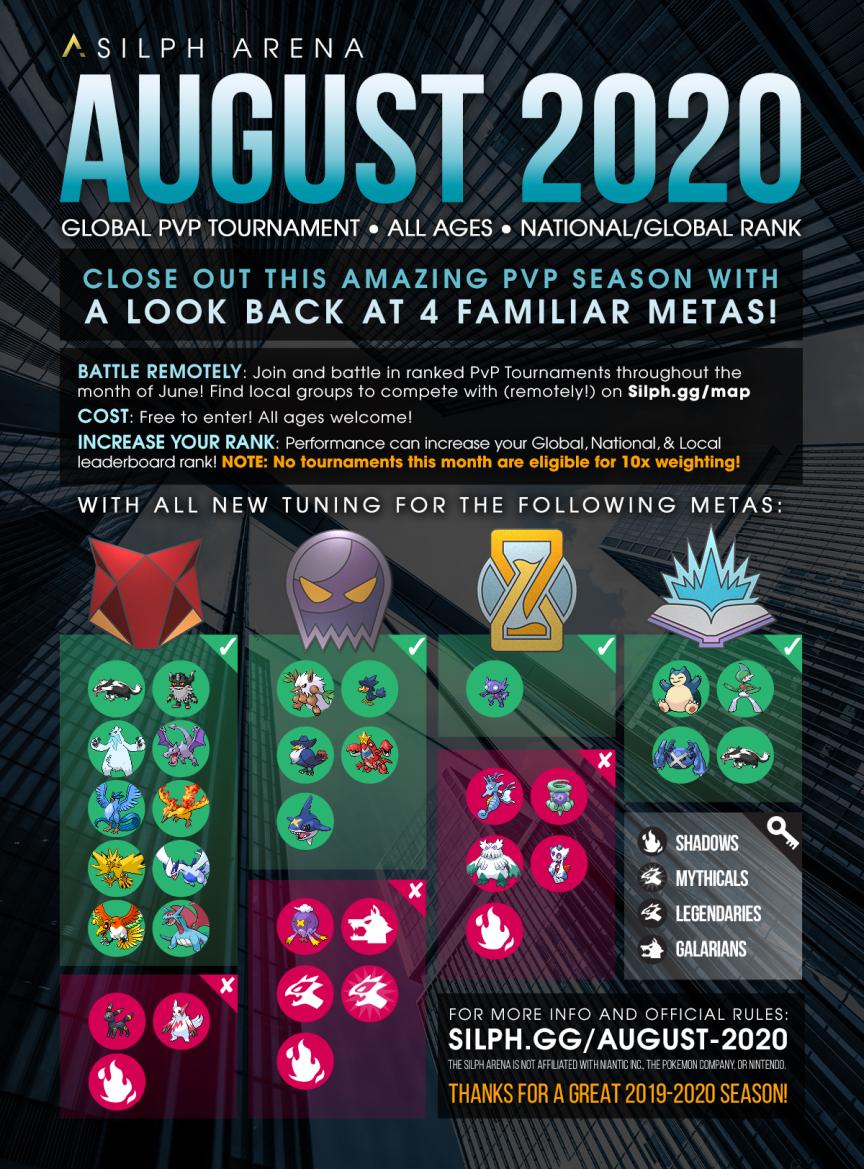 As July comes to a close, so does the final Cup of the 2019-2020 PvP Season! But we still have one more month to increase your rank and climb the player tiers. Starting August 3rd, you'll be able to revisit some of the exciting metas from Season 2 as ranked tournaments – and they've been specifically rebalanced for today's PvP landscape! Don't worry if you can't play them all in August, all of the Cups from this season will be returning as Retro Cups in September.
End of Season 2
The current PvP season officially ends on August 31st. All tournaments held through the month of August are eligible to be ranked, but there will be no new 10x weighted opportunities. Take advantage of this last chance to raise your player rank on the Global and Local Leaderboards!
So what comes next?
More information about Season 3 will be released in the coming weeks, but September will be an offseason month. Take a chance to relax, build up your Stardust, and test out some new teams for Season 3. The Arena Team has a lot of ambitious projects and ideas for the next season, stay tuned!
Take on 4 Past Cups!
A lot has changed since we kicked things off with the Sinister Cup back in October 2019. From August 3rd through 31st, you'll have the chance to revisit the following 4 Cups from throughout the season as ranked tournaments! The Meta team has made a few adjustments to each Cup based on the new additions and updates throughout the season. Pick one favorite or try all 4!
The following Cups have been updated in addition to their original rules:
  Sinister Cup 2.0
Shiftry, Murkrow, Honchkrow, Crawdaunt, and Sharpedo are now eligible.
No Drifblim, Legendaries, Galarians, or Shadows.
Click here to see the original Sinister Cup rules.
Ferocious Cup 2.0
Galarian Linoone, Perrserker, Beartic, Gabite, Garchomp, Aerodactyl, Articuno, Moltres, Zapdos, Lugia, Ho-Oh, and Salamance have been added to the permitted list.
Shadows, Umbreon and Zangoose are not allowed.
Click here to see the original Ferocious Cup rules.
Timeless Cup 2.0
Sableye is now eligible to be selected.
Shadow Pokémon, Snowy Castform, Abomasnow, Froslass and Kingra are not allowed.
Click here to see the original Timeless Cup rules.
Sorcerous Cup 2.0
Galarian Linoone, Snorlax, Gallade, and Metagross are now permitted to use.
« More