« More
The Silph League Arena
Arena Update
Aug 1, 2019:

The Final Cup of the Season and the Arena's Official Discord!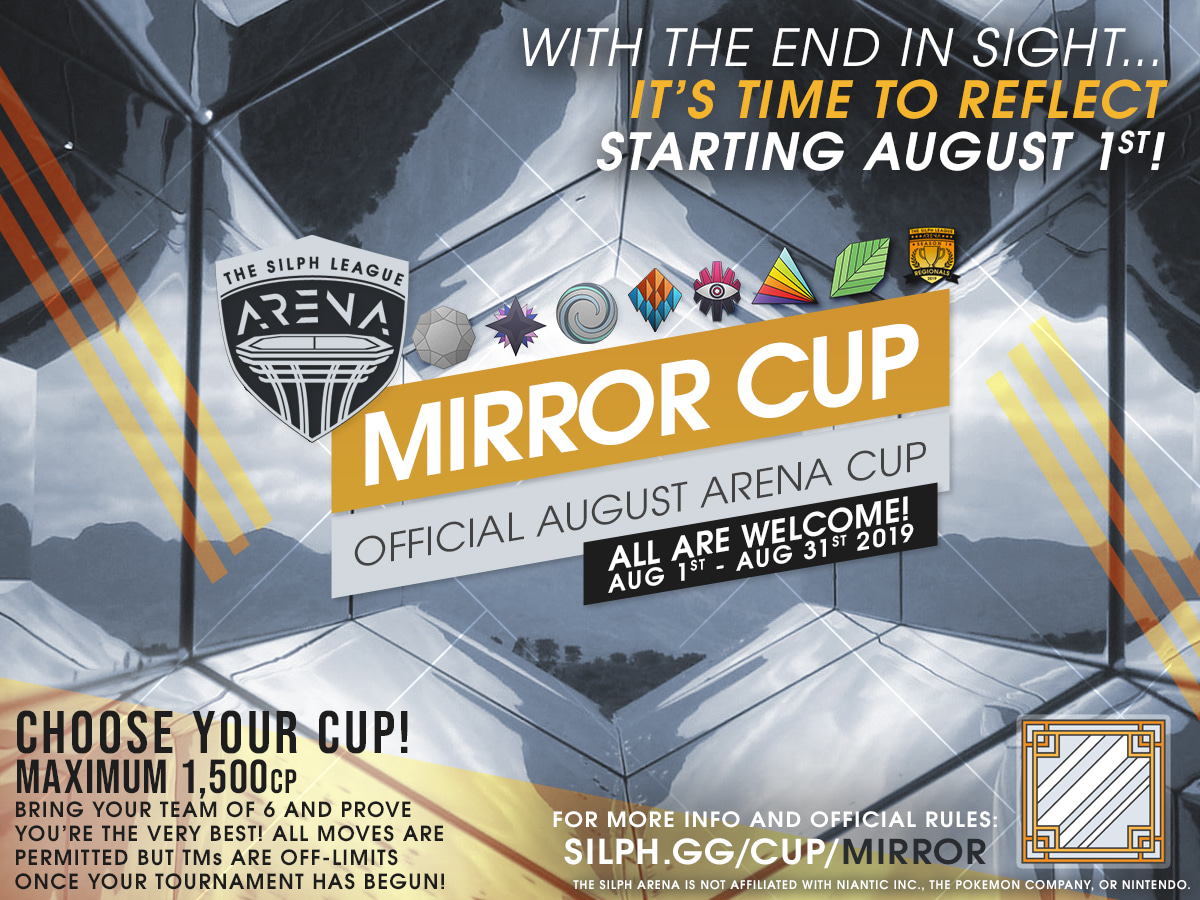 As July comes to a close, so does the Arena's largest Cup yet – the Jungle Cup! Over 2,300 communities hosted tournaments in the Jungle meta last month (a new record!). Now for the final month of the competitive season each of these communities will choose one or more of the 8 different Season 1 challenges to host for the Mirror Cup! Read more about the Mirror Cup here.
The End of Season 1
Season 1 officially ends on August 31st when the Mirror Cup concludes. That means this month will be the final opportunity to increase your player tier, global ranking, and local leaderboard position for Season 1! Remember, the highest player tier you achieve in the Season will be recorded permanently.
So what comes next?
The Arena will share more information about this fall and Season 2's official start date in coming weeks, but Season 2 will not start on September 1 (and that means there will be no official prize pack pre-orders for September). The Arena team has set an ambitious roadmap building on learnings from our inaugural Season, and we look forward to Season 2 being even more awesome. Stay tuned for more soon!
Join the Arena's New Official Discord!
Competitors, spectators, and tournament hosts are now invited to stay up-to-date, get help, and learn together in the Arena's brand new Discord server!
We wanted to create a place where both trainers and tournament organizers could gather to share their experiences, as well as have an opportunity to give constructive feedback, get a quicker response to issues, and have a centralized place for their inquiries.
Join the Official Arena Discord Here!
South American Championships: August 17th, 2019
Hot on the heels of the North American and European Championships, South America will soon throw down in the final leg of the World Championships tour!
Watch for more information next week about how to follow the most elite tournament on the continent where many of the world's top-ranked players will face off for the very first time! Only one Champion can emerge.
« More