« More
The Silph League Arena
Arena Update
Mar 14, 2020:

Important Arena Measures to Slow the Spread of COVID-19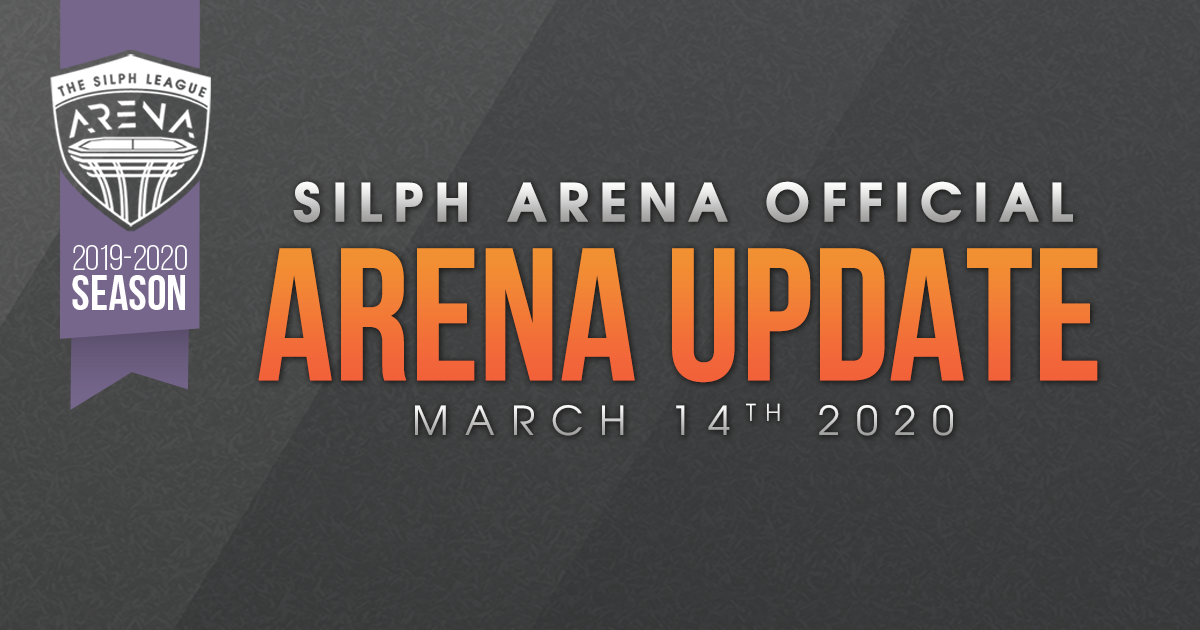 As COVID-19 has continued to spread around the world, the Arena has a duty to do our part to slow the spread of the virus. The time has come to take additional measures to reduce disease vectors and transmissions across the thousands of monthly Arena events. Nothing is more important than the health of our competitors and organizers, our loved ones, and our communities.
1. In-person Tournaments Suspended
Beginning Monday March 16th, at 9:00 AM UTC, all in-person (live) tournament events will be suspended through the end of May.
In-person tournaments that were already created and scheduled for this weekend can be held before Monday, March 16th, at 9:00 AM UTC, though we strongly encourage tournaments this weekend to be held remotely for the safety of your competitors. After that time, in-person tournaments will need to be changed to a remote format, or cancelled and recreated as a remote tournament until this suspension is lifted by the Arena. All live events are encompassed in this change – including Battle Towers.
If a community is found to be hosting ranked in-person events during this time, all involved (organizers and competitors) will be subject to punitive actions. The Arena takes this very seriously.
2. Remote Tournaments: Maximum Capacities
Last night, Niantic lowered the Friendship requirement for remote battling to only requiring "Good Friends" for the next 30 days. We encourage all to take advantage of this fortunate and timely change to host remote tournaments locally during this time.
Previously, ranked remote tournaments have remained small in size, on average. This was due in part to the rule which requires every competitor in a tournament to achieve Ultra Friendship with all others before beginning. The logistical hurdles of administering large remote tournaments has also been a limiting factor.
With the newly lowered Friendship requirements, however, (at least through April 12th) it is for the first time possible to have over 100 competitors compete remotely in a single tournament bracket. These remote "mega-tournaments" are uncharted territory, and we caution hosts not to enter a situation where they are unable to effectively handle the tournament logistically and enforce Arena rules and protocol. Additionally, the silph.gg infrastructure will need a few performance upgrades as larger tournaments become more common during this period. Consequently, the Arena will support remote tournaments up to 7 rounds (65 – 128 competitors) for the present, and will be evaluating several factors to see where adjustments should be made for the future.
Like all remote ranked tournaments, competitors must be able to battle their opponents according to the pairing algorithm's dictates or the tournament will be deranked. We recommend that all large remote tournaments aim to conclude before the Niantic remote-battling friendship update is removed, or risk being unable to complete the tournament. Remember, Friendship requirements are only currently guaranteed to remain lowered through April 12th.
3. Regionals: More Info Soon
2020 Regional Invitationals were originally scheduled for the month of April. At this time, we are confident the Arena will not be holding live events of any sort in April – including Regional Invitationals – but the Arena team is working very hard to ensure that Regionals will still take place this Season. While the team works, we ask all Regional hosts and invitees to stay tuned and wait for an announcement on this front soon. In the meantime, RSVP's to Regional events have been "frozen", and Regional Hosts can not currently edit these event tournaments. Those who had not yet RSVP'd will have another chance to do so in the future.
We will have more details on the adjustments being made to the 2020 Regional Invitationals, but at this time, we recommend host teams abstain from searching for new live event venues and/or setting alternative dates for your event and await further information.
---
We sincerely thank you for your patience and understanding as we continue to make adjustments for the health and safety of all competitors. No one could foresee the issues facing us all this year, but the Arena team is committed to continuing to grow the Arena and make competitive PvP exciting and rewarding – even in the face of uncertainty and a shifting environment.
– The Arena Team –
« More