« More
The Silph League Arena
Arena Update
Nov 3, 2022:

Factions Power Rankings – Bout 7 Cycle 2 Season 2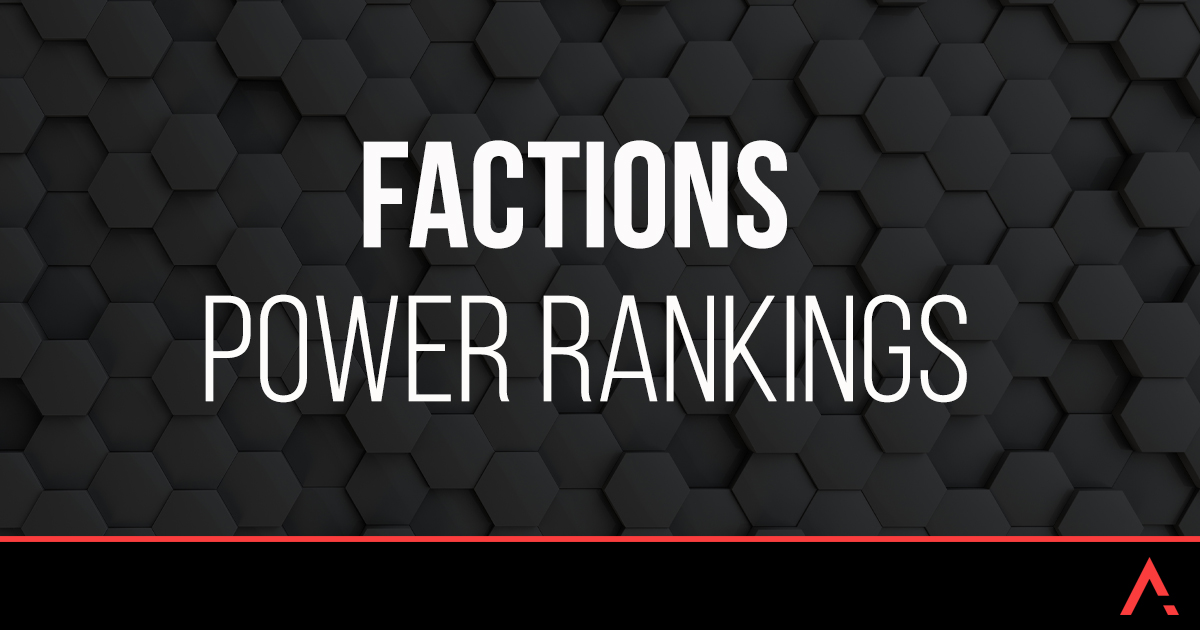 This recurring article will highlight some of the best Factions and Players in the format, using an ELO rating system developed by Nerowx. If you want to skip the formulas and explanations of what every term means, go straight down to the Power Rankings section for the fun stuff! Also links to all the Data and Ratings can be found at the end of the article, plus a link to a Discord Server where the Ratings are shown by Region, Tier, and much more!
ELO Formula, FELO, PELO and more!
---
So first of all, what do I mean by ELO rating? Like in chess, which uses the regular formula (read more here) to calculate a player rating based on the game between the two players, the same formula can be used for factions and players.
In short, the formula is:
Where the points don't matter, only if the score is a win or loss.
is the ELO rating one gets after the bout.
is the old rating one has before the bout.
is a value depending on a faction's/player's strength.
ranges from 10 to 40, where typically a top player has 10 and a beginner or players with relatively low rankings have 40. Henceforth the
value will always be 10.
is the expected score, the formula is as follows:
Where
is the opponent's rating before the Bout. 400 is simply an arbitrary number. 
When Cycle 1 of Season 2 started, every Faction and Player started with a rating based on the tier the Faction/Player played in. (Emerald – rating of 1000, Diamond – rating of 980 etc). Ratings after Bout 9 from Cycle 1 have been carried over to the start of Cycle 2. To separate the ELO ratings of Factions and Players we can call the rating for Factions FELO and the rating for Players PELO. 
Let's "calculate" an example:
For Bout 1, NA, Pair 1, Evanstonks is facing Stadium Elite. When Cycle 1 ended Evanstonks had a FELO rating of 994 and Stadium Elite 1019. If Evanstonks wins Bout 1, the formula gives a new rating of 1000 and Stadium Elite gets 1014. If Evanstonks loses, the new rating is 990 and Stadium Elite gets 1024.
The same applies for a player that wins its battle. 
Now, the rating can also give somewhat of a prediction to whichever wins. There can also be another rating by weighing in a Faction's wins, and calling that rating XELO. For a Player, another fourth rating, by weighing in the Player's wins, can be called NELO. Lastly, a fifth rating for Factions, by averaging the Faction's players PELO rating can be called AELO.
Power Rankings – Bout 7
The cycle is getting closer to an exciting ending, and this will be the second to last update to the ratings. After Bout 9, a summary and last article will conclude it all.
First FELO, we see that the same two Factions at #1 and #2 are still INFINITY GO WHITE and EU EMPERORS. A new #3, up two spots from Bout 6, is POGOATS, and taking over the spot from MAGNISPVP. Of the Top 25 there are only two undefeated Factions: #20 HYDRA ESPORTS and #24 CANADIAN SHIELDON.
For PELO, the #1 and highest PELO rated player is MRKANGKANGL from APAC Emerald MILK TEA PUI PUI. They have won the last six bouts and has 14 total wins. At #2, undefeated, is TANGENT444, who got a lower rating at the start of Cycle 2, but has made bigger gains than the rest of players at similar starting PELO. NIMBLEDRAGONLKJ at #3, with a high rating going into Cycle 2, still in the top despite two losses and four bout wins.  All three players are also the highest rated playing Primeval. Lastly at #4 and also the highest Sorcerous PELO rated player: THOTECHTICAL, with six out of seven bout wins.
Looking at AELO, a new entry taking a spot in the Top 4 is #2 THE METAL RAPTORS, with six of its players taking a bout win, (with the 7th game ending 0-0). At #1 is still INFINITY GO WHITE and at #3 EU EMPERORS, both factions winning six out of seven matchups. MILK TEA PUI PUI at #4, down a spot because of a loss in Bout 7.
Finally, for NELO, since last recap, a couple of players have lost, so our new #1 is B0PPER from NA Silver TEXASPVP. With all 7 bouts won and having 20 total match wins, with six 3-0's, the spot is well deserved. At #2 is MRMCCALVIN from EMEA Emerald GUERILLA GARBODORS and #3 is LNDSGOKU from LATAM PLATINUM HYDRA ESPORTS, both having 18 wins. And a player from the lowest tier in the Top 11 is ELDKRYUFF from EMEA Bronze SWÉMONS with 19 wins. The battle of most wins in Cycle 2 is surely going to be one of these players, (or maybe GIGGETER or 0EL1TE0).
2 more bouts to get those last gains for the Cycle, 2 weeks until the final recap!
Want to join Nerowx's Discord to get more information, discuss the data or provide feedback?
Nerowx's Discord Server Stats
Do you want to check the data?
« More