« More
The Silph League Arena
Arena Update
May 2, 2021:

Arena Factions: Rules, Disputes, and Procedures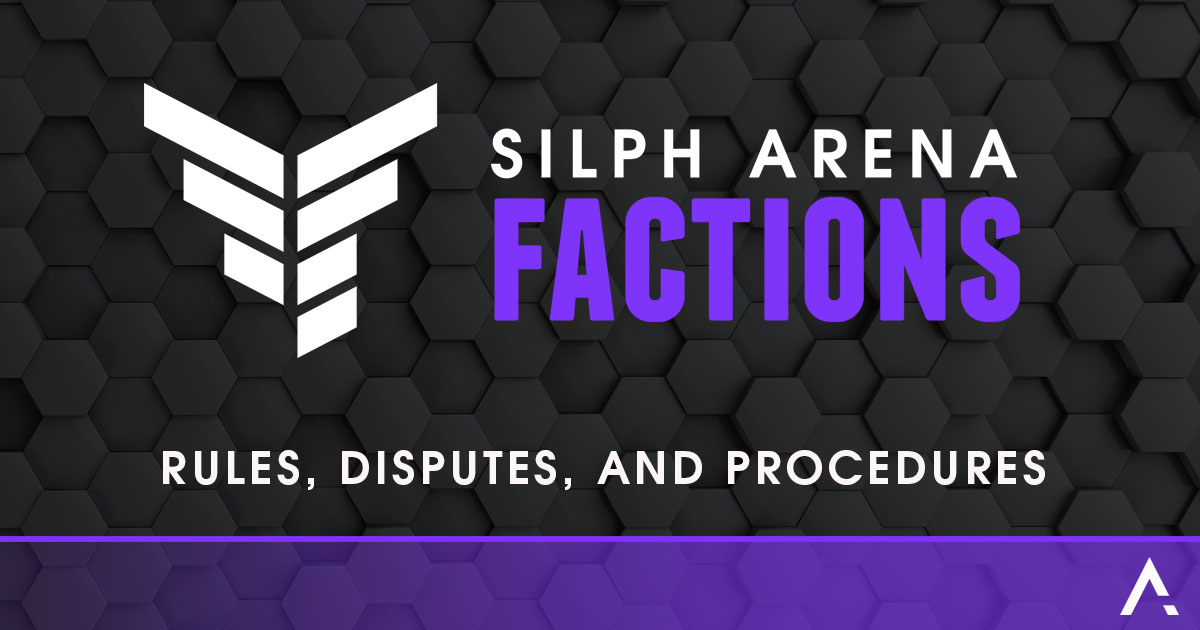 Hundreds of Factions have registered and are anxiously awaiting the start of the inaugural Cycle! But before the battles can begin, we need to cover a vital topic – Factions Rules. In many cases, Factions follows the same rules and procedures as the standard Arena Rules. But there are a few areas that will look a bit different. Here's what you need to know!
Factions Rules
1. Battle Parties

Competitors may update their Battle Teams between each bout, allowing you to choose a roster of 6 Pokémon against one Faction and change your Battle Team for the next. The only requirement is that it comply with the Meta in the position you are fielding. Battle Teams are locked in on the Wednesday of each bout.
Competitors are also allowed to TM their Pokémon's movesets up until their first battle of each bout. However, altering a Battle Team by powering up, evolving, purifying, or swapping alternate Pokémon within a species is strictly forbidden once rosters are revealed (even if a late power-up or evolution would achieve the CP and/or species that was registered). Once the bout has concluded, you are eligible to start making changes to your team of 6 again. 
Please note: If you are using the same Pokémon in Factions that you are in the Arena, standard Arena Rules still apply to your Pokémon. Changing the moveset on a Pokémon for Factions that you are using in an ongoing Arena tournament violates standard Arena rules. 
2. Streaming

Factions competitors are allowed and encouraged to stream their battles! The decision to stream, alone or collectively with their opponents, rests solely on each individual Factions each bout. Competitors are not required to share their own videos with opponents, however they cannot prevent the opponent from streaming their own point-of-view of the bout.
Factions may stream their bouts live, create and release video afterwards, or work with a third-party to produce and broadcast their battles. We expect each competitor to inform their opponent when coordinating match times if they are planning to stream.
3. Hidden Information

Competitors may discuss Hidden Information within their own Faction at any time before or during each match. This includes movesets, game play, and any other strategy developed during the course of the Cycle. For the purposes of these rules, a Faction consists of the 7 Specialists and an Alternate.
While you may watch past broadcasts of opponents, individual Factions may not actively seek out information, nor provide information to other Factions that is not readily available to the public. Any Factions that are found to be working together to collude, fix matches, or engage in any other form of cheating will face penalties up to and including expulsion from the Silph Arena. 
4. Outside Assistance

Factions are encouraged to work together with their teammates in preparation for each bout. This includes using simulations and any other applicable resources in order to practice and develop the best strategy for battle. Teammates may also provide assistance during the course of gameplay. However, you may not discuss information or receive assistance with anyone outside of your registered Faction at any time during an active bout. 
5. Communication

Faction Captains are required to join the Silph Arena Tournaments Discord server in order to readily communicate and coordinate with other Factions. Other competitors are encouraged to join as well to more easily communicate with Arena staff and other competitors.
Competitors should contact their opponent within 24 hours of the start of the bout to coordinate a time to battle. If you do not hear from your opponent within the 24 hour window, please inform your Faction Captain so they may contact the Arena Referees. If a time has not been settled upon within 72 hours, Referees may begin issuing penalties.
6. Faction Names and Logos

The Arena reserves the right to edit or remove Faction Names or Logos found to be in violation of any of the following:
Protected by third-party rights without written permission

Brand or trademarked materials

Defamatory, pejorative, offensive, vulgar, obscene, discriminatory, or other hate speech, terms, or imagery. Using alternative spellings to avoid these terms is also not allowed.

Reporting Disputes
Competitors must inform their opponents immediately after a battle if they wish to dispute due to a technical malfunction. If they cannot resolve the dispute amongst themselves, the issue should be brought to their Faction Captains for review. In the event that an escalation is necessary, competitors should play a rematch of that battle and the rest of their outstanding battles. Should the disputed battle and the replay have the same winner, the dispute becomes void as neither ruling would change the outcome of the battles. If Faction Captains cannot come to an agreement, or the technical malfunction involves a Faction Captain, official Arena Referees will manage the dispute. 
Faction Captain must submit disputes as soon as possible via the Factions Dispute Submission form. In order to be able to access this form, Captains must be in the Silph Arena Tournaments Discord server. Captains are required to join, but it is highly recommended that all competitors join the server for ease of communication. The form can be found in your Conference disputes channel. Referees will review the dispute and make a ruling within 72 hours. All Referee rulings are final. 
Dispute submissions should include: 
Faction Name

In-game name of the competitor disputing

The competitor's position

Game # of the dispute

Video evidence and/or journal entry where applicable

Any supporting statement from the individual submitting the dispute regarding the circumstances of the match and what they believe to be the issue

*In the event of a dispute, competitors should play a rematch of that game and the rest of their outstanding games.*
Ranked Status Information
Competitors must be ranked in the Arena to compete in Silph Factions.Competitors who have been deranked or banned by the Arena are not eligible to compete in Factions. Anyone who opted out of rank due to GPS manipulation must remain unranked. If a competitor is found to have opted back into ranking after opting out due to GPS manipulation they will be subject to penalties up to and including permanent removal from both Factions and the Arena.
If the Legislation Team finds a member of a Faction to be breaking any of the Arena Rules, they will be subject to the same penalties, including permanent removal from both Factions and the Arena. If a Faction member loses their privilege to remain ranked, that competitor will automatically forfeit their remaining battles of the current bout and be promptly removed from their Faction. The Faction's Alternate may then take their place for the remainder of the Cycle. If a Faction loses more than one member due to disciplinary action and cannot field the required number of competitors, that Faction will be disqualified from that Cycle. The Faction may register again with new Specialists at the next eligible entry point in the season. 
---
And that's it! Be sure to review all of these rule updates, as well as the standard Silph Arena Rules before your first bout. Good luck and happy battling!
« More