« More
The Silph League Arena
Arena Update
Mar 10, 2021:

Silph Arena Factions: Team Rosters, Positions, and Regions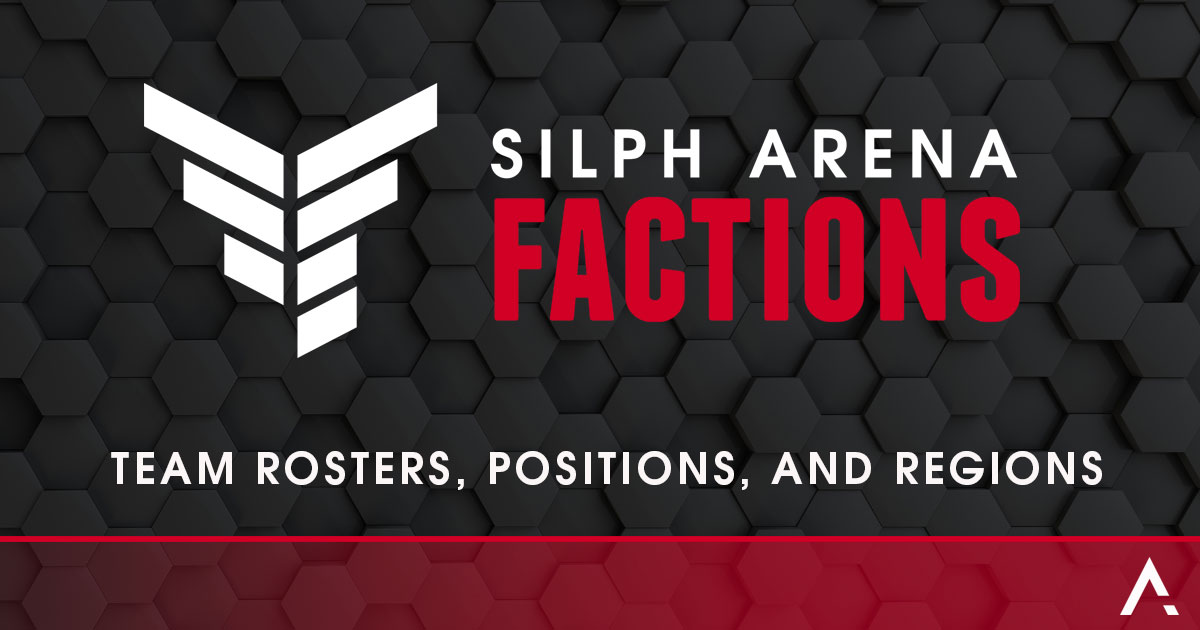 Earlier this year, we announced the launch of a new PvP format: the Silph Arena Factions! Factions is a team-based, 7v7 PvP League where competitors will show their teamwork and battling skills in specialized metas, or "fields."
The PvP world got a taste of the Factions format in the Silph Arena All-Star Invitational, and has since been anxious for more. Well worry not, your wait is almost over! During the next couple of weeks, we'll be releasing important information about the league, including team requirements, season schedules, how to register, and more – all leading up to the start of the first Silph Arena Factions season.
---
Team Roster Requirements
Today, we'll be tackling everything related to team rosters. Each Factions team will have 8 members – 7 Specialists and 1 substitute. While the Specialists will each cover a specific position, the substitute can take any of their places for a bout. Be aware – each team member, substitute included, can only cover a single position at a time, so you will need at least 7 players available every bout.
One member of each team will serve as the Team Captain. Captains are responsible for assigning their teammates positions, scheduling battles with other team captains, and reporting any disputes or issues that may arise during a bout – such as scheduling conflicts, technical disputes, or any other complications. Stay tuned for an update on Factions rules and procedures for more information.
Fields and Specialist Positions
Each of the 7 Specialists will battle in a specific meta:
Great League Specialist
Ultra League Specialist
Master League Specialist
Field Specialist 1
Field Specialist 2
Field Specialist 3
Field Specialist 4
The Great/Ultra/Master League specialists will battle in their respective leagues (with a few restrictions), but each Field Specialist will compete with a special rotating meta called a Battlefield. To start, all 4 Field Specialists will use the same meta, but eventually there may be more than one Battlefield active at a time!
Substitutes are the only member that can swap in for any of their teammates between bouts. Once a bout begins, however, positions are locked in and no substitutions can be made.
Competitors will battle in a 3-battle match against the opposing team member in the same position. Each win awards a point, for a maximum of 3 points per match (every battle counts!). The team with the most points at the end of a bout is declared the winner!
More Team Info
The Factions league will be split into 4 regions – North America, Latin America, Europe, and Asia-Pacific. A team can join whichever of the regions they want, no matter their actual location, but should expect to be available to battle at appropriate times for the timezones of the region they join.
A team can only battle in a single region each cycle. Similarly, competitors can only belong to a single team. You are locked into your Faction and region once a cycle begins, so choose carefully!
---
Next Up…
Team rosters make up the foundation of the Factions format, but there's much more to come! Coming up next, you can expect to see:
Rules, Disputes, and Procedures
Team Pages and Registering Your Team
The launch of this epic battle is drawing closer, it's time to gather your team!
« More