« More
The Silph League Arena
Page
Sep 22, 2022:

FSPN - EMEA - Bout 3 Cycle 2 Season 2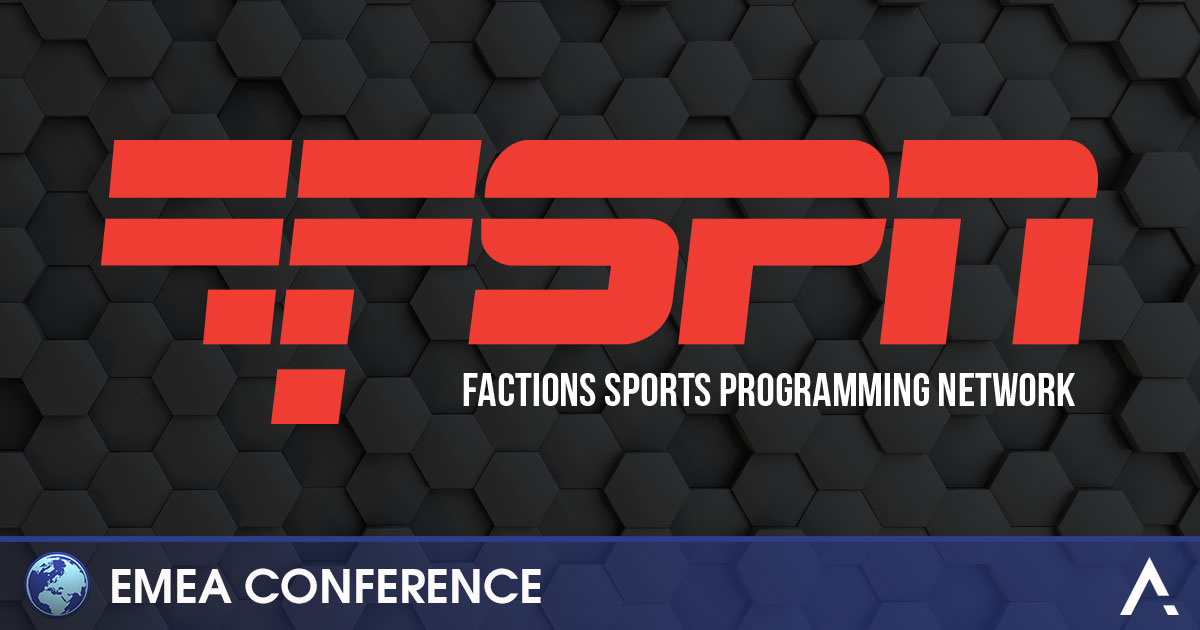 Author: JBQ712
Packed and stacked!
---
While making the review Tweet of Bout 2 – btw follow @EMEAFactions on Twitter, Factions Twitter is awesome – I noticed that there were a lot of really close scores like 11-10's and 12-9's, really a tightly packed field. Not to mention that over time all the best teams have managed to push toward the top Tiers, meaning Emerald through Platinum really have a lot of Europe's best players competing. Not that there aren't great players outside of those three Tiers, but the density here is just more noticeable. Let's see what some of the great teams have been up to this week.
Previously in Factions
---
There were some surprise wins in Emerald from Foxdevilswild, PraToxicroaks and EU Emperors. A lot of 11-10 scores throughout all Tiers, that don't give me a lot of room to write about them, because it can often be a coinflip in the last game that it comes down to. But here's some of the top scoring Teams from Bout 2, who stuck out from the close-call matchups: Hakkapelippers (14-7), Team Utrecht (16-5), Evil Worms of SBT (15-6) and Miltank Milkers (16-5). And lastly, the meme culture has been picking up speed on Twitter, maybe it's time for a Meme competition sometime soon.
The Plusle(s)
---
Team #Eat Pastasciutta has stayed on the rise, although it was closer than some might have expected. I am mentioning this, because I wanted to jump on the only right call I made last article.
What I haven't mentioned yet, but is definitely nice is, that PokeLeague United are competing with their original roster again, featuring SixFeetUnder6, ManchesterSRT, Clockworker23 and seregadixon. It is good to see you back in the competition!
The Minun(s)
---
Sure as hell Arceus@Kitsune didn't get upset by LesFrenchevaliers and the Guerilla Garbodors did undoubtedly not win their match – they must've eaten a couple of super effective Mud Bombs from PraToxicroaks. Pretty bad predictions on my part, not gonna lie. But bad predictions mean the competition is dynamic so I wouldn't change anything for being right.
Matches to keep an eye on:
---
Matyzs123 (Bojové fretky) vs R6RacingR6 (Holy Worms of SBT)
AndreSarant (Children of Zeus) vs Scagliaorda (ecomostri)
Plymouth942 (Swémons) vs calethnic (Mortal Belters)
Fr43ka (Guerilla Garbodors) vs Ccoftw (EU Emperors)
Sanjudigo (Levante AC) vs Holmsy12 (Yorkshire Tryhards)
Matchups to follow in the 3rd Bout:
---
Powerpuff boys vs #Eat Pastasciutta
Gli Emarginati vs Tea & Pizza Academy
LesFrenchevaliers vs LesMangemorts
Wasted Potential vs Amaretto Rioja
Team Phantom vs The Battle Kittenz
Have you met: Belfast Beedrillers
---
We are the Belfast Beedrillers – a bunch of guys representing the PvP scene in Northern Ireland/ Ireland and currently competing in the EMEA Iron Tier. Last Cycle we dominated the Open Tier with a perfect record of 7-0. When factions first started, we had a team called 'ats us ni ' but as a few players drifted from the game we were unable to keep fielding. This season we were able to get back in the mix with a few new recruits.

We are very proud that two of our members Guchmon and Hope achieved all star status last cycle. We are also a team containing two regional champs… Hope – who won this year's Irish tournament whilst on a sun lounger sipping cocktails during his honeymoon, and Allezjonnievoir who is one of the OGs of both the local and international pvp scene paving the way for local battlers to represent globally. A number of us also represent Ireland in Gymbreakers World Cup and this season we achieved our highest ever finish with some notable scalps along the way. Anyway, we've started slowly this cycle but don't worry, we haven't lost our stingl. We dont take ourselves too seriously and our meme game is strong, looking forward to meeting and beating more teams this cycle. You know the drill!
Faction that will undoubtedly win their match: The Jym Division and their opponents Dark Worms of SBT are both at the bottom of Platinum Cycle, so safe to say one of them will put points on the board this week. I'm putting my money on The Jym Division for this one. (No real money, don't gamble guys) 
Faction on upset alert: Snovertappers are looking down the barrel of Tea & Pizza's gun. They really should not lose this Bout, and that's the exact reason I am putting them on upset alert for.
Faction on the rise: Foxdevilswild are currently #2 in Emerald and while that will probably change soon enough this little pat on the shoulder (yes, my own shoulder) is earned. Beating Wasted Potential and Sky Dragons Gaming is something.
Faction on the slide: Tinkertrotters didn't manage to win a Bout yet and are facing a monster of an opponent with previous Emerald competitors Arceus@Kitsune, so I'm afraid the slide won't be over with this Bout.
That marks the end for this week's edition of FSPN! I appreciate all of you for checking in weekly to keep up with the action! If you want to see more, read more and know more, follow @EMEAFactions on Twitter to stay tuned with what's happening in the Field. Drop by on @nerowxyz's Twitter and @factionpolls to get a look on a variety of spreadsheets and participate in polls. Feel encouraged to share tweets and articles to grow our community and check out @MJGettit, @Jolt019 and @Karolisbusma (aka Menomorphus) on Twitter, they cover the NA, LATAM and APAC regions! So long and until next Bout!
The opinions and predictions in these articles are of the author alone and not endorsed by the Arena, we love all of our children equally and couldn't possibly pick favorites.
« More