« More
The Silph League Arena
Page
Nov 5, 2022:

FSPN - NA - Bout 8 Cycle 2 Season 2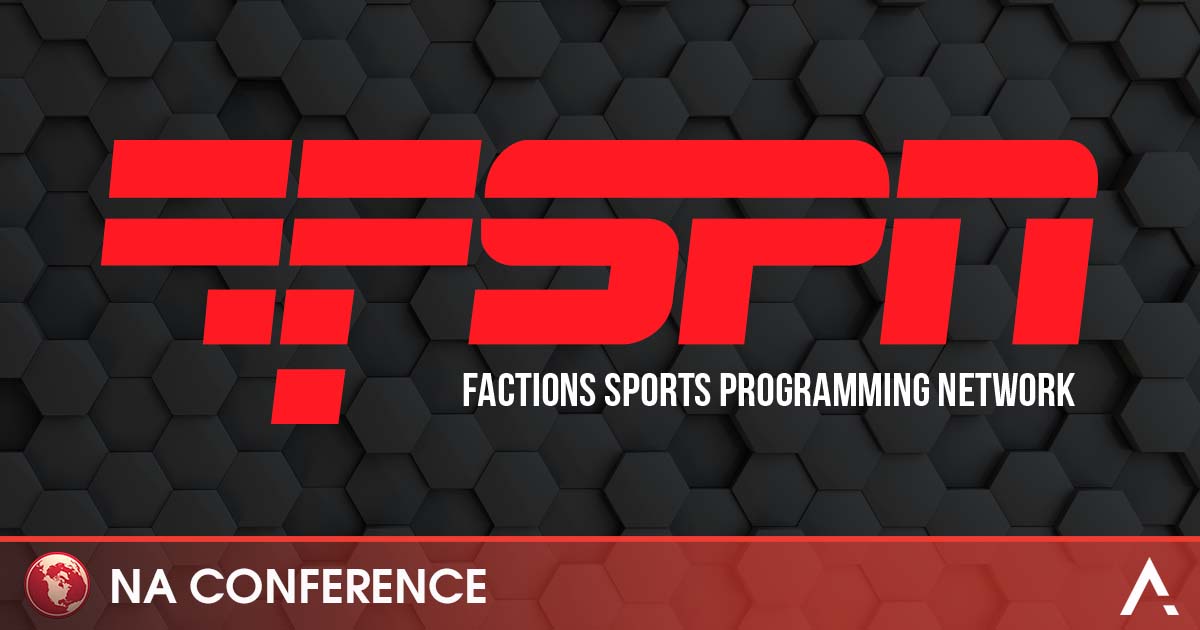 Author: MJGettit
THE PENULTIMATE BOUT
---
Knuck if you buck. Run up or get done up. Some of these Promotion/Relegation races are set in stone (most of Diamond's, Platinum's Relegation, Gold's Promotion). Others?…. My guy, how much time you got to talk about them? Silver & Bronze's Promotion, Platinum Promotion, Emerald's Relegation, Iron's DOUBLE PROMOTION, Bronze's Relegation (to an extent). It's the second to last week of the cycle. Let's jump into it.
ANALYSIS
---
Faction That Will Undoubtedly Win Their Match: Sharks & Recreation (Next week might determine if they get promoted/relegated/stay in Iron. 
Faction on Upset Alert: TTT Squad (The scariest thing about Open Tier that no other tier has to worry as much about is that a loss can doom promotion from that hellscape. TTT is in the same spot that previous unbeatens of Open's past TexasPVP & Hammer Heads were: second place breathing down their neck. Unlike those two though, T3 has four up on them and two of them ahead in points scored. They face one of them this week in Stadium Elite Silver. Yea they're on Upset Alert but this should be a great match – possibly maybe Match of the Cycle?)
Faction On The Rise: PA Perrserkers (These Perrserkers are benefitting from the other Platinum promotion contenders fighting each other. Also helps when they take some out along the way.)
Faction On The Slide: Testudo Skillz (Could end up sliding into Relegation…)
IMPORTANT MATCHUPS OF THE 8TH BOUT
---
EMERALD 
Cool Cats' win REALLY upended the Relegation Watch in Emerald. They moved from last to 7th & is tied with Final Boss in points (FB holds tiebreaker). Now Evanstonks, Wing Attack, Icy Wind, Cool Cats, & Final Boss are all in play to get relegated. Final Boss has the "easiest" way to avoid relegation by just winning one bout out of their last two, but their last two are against PoGoats & Chicago Stars. Cool Cats & Icy Wind play each other next week, so the amount of points they get this week intensifies the weight of next week's bout. Evanstonks & Wing Attack, though, battle it out this week where the loser might have an express ticket to Diamond. Unlike the other tiers, Emerald's 1st place faction gets a World Championship invite (if they don't already have one). Going into the last two weeks the factions vying for that invite are PoGoats (Twitter's pre-cycle favorite to win), The Body Slammers (looking to do the same thing to PoGoats that PoGoats did to them in Diamond & the universal dark horse pick that everyone figured would be near the top), Stadium Elite (my pre-cycle pick to win) and Chicagoooo-oh shit Chicago's back?! CHICAGO'S BACK!! Yea that's… hmmm… ok no pressure for PoGoats & Body Slammers to keep that lead over Chicago in the final weeks…
IMPORTANCE OF MATCHES 
PoGoats vs Final Boss

Evanstonks vs Wing Attack

Icy Wind vs Chicago Stars

Stadium Elite vs Cool Cats

The Body Slammers vs Ann Arbor Arbok
DIAMOND
So we know Canadian Shieldon & Elite TMS are being promoted and HV Pogo Dojo & TNT Flingulls are getting relegated, it's just a matter of who's joining them. In the promotion race Muddy Water does hold a two game lead over SoCal Gold, but A) SoCal has more points and B) SoCal's last opponent is not as tough as Muddy's. As for relegation, Backstage Battlers, Deoxys Alberta Forme, & Team OMEGALUL are all competing to avoid the final spot. Backstage has TNT this week, which is a must-win for them as their next opponents are Elite TMS. DAF has ETMS this week & OMEGA has kkPVP before they play each other, plus they're tied in points, so getting as many points as possible is crucial to their bout next week against each other.
IMPORTANCE OF MATCHES
Muddy Water vs SoCal Swablu Gold

kkPVPFactions vs Team OMEGALUL

Backstage Battlers vs TNT Flingulls

Deoxys Alberta Forme vs Elite TMS

Canadian Shieldon vs HV Pogo Dojo
PLATINUM 
Ok, here's the one thing that is for sure: AquaTail HungerForce is getting relegated. There's a slim (SLIM) chance that Dubz 4 Cheap, C-U Later, or Team MichiGengar could avoid relegation, but that would mean Phoenix Rising had a MASSIVE collapse in the last two bouts. As for promotion, Bad Mews, North East Battlers, Hammer Heads, DOJO Squad, & PA Perserrkers all are still alive for it. Hammer Heads & Bad Mews will fight this week, #1 vs #3, so the other three + Phoenix have some room to gain in the promotion race. After this week we'll go over the tiebreaker scenarios for promotion.
IMPORTANCE OF MATCHES
Hammer Heads vs Bad Mews

PA Perrserkers vs Team MichiGengar

DOJO Squad vs Dubz 4 Cheap

North East Battlers vs C-U Later

Phoenix Rising vs AquaTail HungerForce
GOLD
HomeSliceHeroes, Lucky Muks, & Blouses have such a huge gap in points (91, 90, & 90) compared to the next closest (iCarly's 71) that if they win/score 8 points this week they're guaranteed promotion. iCarly Fan Club is playing spoiler for all factions in the last two weeks, as they can't get (reasonably) promoted without outside help (see Next Up), which means that Gold is the inverse of Platinum here. Play Rough Riders are currently scheduled for double relegation; they are 9 points behind the next lowest scoring faction, and the only faction they would own a head-to-head tiebreaker over (Hoosier Daddies) they're 17 points behind. If they lose this week and/or Eastcalibur gains a lead in the point differential, it's off to Bronze for them. Speaking of Eastcal & Hoosier Daddies, they're fighting a slightly uphill battle to avoid going to Silver. I say slightly uphill because the point difference between 9th place Eastcal and 5th place The Orlando Faction is 8 points. Eastcal & NEB play each other this week so one of them will get closer to relegation after this week, but as for everyone else it's all up going to come down to the last week.
IMPORTANCE OF MATCHES
NEB: Udder Madness vs Eastcalibur

iCarly Fan Club vs Hoosier Daddies

The Great Unown vs HOMESLICEHOMIES

The Orlando Faction vs Blouses PVP (was #2 until lineups were revealed)

Play Rough Riders vs Lucky Muks
SILVER
We eluded just how convoluted the top of Silver is last week, and even after Texas won their bout before the article came out and Ohio toppled WAB… it's STILL TOO CLOSE TO CALL!!! Ohio & Helmet will break their tie, and I know Weekend At Burmy's are starving for revenge after last cycle's 11-10 loss to Texas. If WAB wins that match… Oooh I think I'll dedicate half the article to just those four factions alone. As for the relegation watch, Ghostpepper's getting relegated but it's still too soon to say to Copper just because of what happened last cycle with POGO Raiders & Sw1tchMstrz. As for Gong Rippers & Scizor Me Timburrs, they're chasing The Shadow Ballers & 'N Sync. Gong needs to rip a win and some big points this week to stay alive for safety, and SMT HAS TO beat The Shadow Ballers, otherwise the only thing to look forward to next week is the Promotion Race…
IMPORTANCE OF MATCHES
Ohio Nation vs Helmet Heroes

TexasPVP vs Weekend At Burmy's

Scizor Me Timburrs vs The Shadow Ballers

Ghostpepper Dunspice vs Gong Rippers

Decidueye Dynasty vs 'N Synchronoise
BRONZE
Bronze… just wow! Similar to Platinum it is a clusterf*** up between 1st-6th, but it's mostly due to Disputin' & BC Orlando's tie. SoCal Blue, POGO Raiders, SeaKingPin, & The Thunderdome all have more points than them, meaning D&S + BC have to win to stay alive for promotion, especially BC. Some of the dust may settle this week with D&S vs Thunderdome & SKP vs BCO, but that still leaves next week's showdowns between the six vying for both promotion & double promotion. With relegation, Swellsprouts, who I said was getting relegated earlier in the cycle & despite being in the 8th place spot, have a chance to avoid it but they're going to need a LOT of help. The faction they're trailing is DOJO Kkomrades, who's last two games are against NM PVP & Busta Mime, the two factions trying to avoid double relegation. If DOJO loses one of those games, Swellsprouts might not be uprooted from Bronze, though they would more than likely have to defeat POGO Raiders this week and hope NM PVP wins/keeps it close with DOJO. 
IMPORTANCE OF MATCHES
Disputin' & Screamin vs The Thunderdome

Busta Mime vs SoCal Swablu Blue

SeaKingPin vs BC Orlando

Swellsprouts vs POGO Raiders

DOJO Kkomrades vs NM PVP
COPPER
Yea, I bet y'all thought I was going to talk about the promotion race between Team BTW, Sw1tchMstrz, FletchinDErella Story, & Utah Pokemon Rangers, but Testudo Skillz is the faction that will determine EVERYTHING that happens in Copper in terms of promotion/relegation. But that doesn't mean FletchinDErella & Sw1tchMstrz won't have a big hand in settling the dust for double promotion. The worst case scenario for those two teams is an 11-10 win/loss while Team BTW & Utah wins by 7 or more points. I mean, that's a worst-case for them. For me, next week's Testudo/Sw1tch & Utah/Fletch deciding who goes to Bronze is the best case scenario. But back to the beginning sentence, what does Testudo have to do with the relegation in Copper? Well, they finish this cycle one a hard 3 week stretch that started with a loss to FletchiDErella last week. This week they have Team BTW, and next week it's Sw1tchMstrz. It is totally possible that they go 0-3 to finish the cycle, which means Wu Tangela Clan has to win out to avoid relegation (they're only 4 points behind Testudo as of the start of this week). 
IMPORTANCE OF MATCHES
FletchinDErella Story vs Sw1tchMstrz

Testudo Skillz vs Team BTW

Wu Tangela Clan vs The Spice Is Right

Utah Pokemon Rangers vs 7 Deadly Simps

OSMO PVP vs Silph League SA
IRON 
BraveNerds & Rock Paper Slark have clinched promotion and, unless Spheal Team 6 or Mighty Thunderducks spoil it, will have a fight worthy of being one of the best final bouts ever. As for the rest of the Open Six, here's what we're looking at: Mighty Thunderducks is 5-2 at 80 points with tiebreakers over Sharks & Recreation and Spheal Team 6, Mazer Gaming Academy is 4-3 at 81 points with tiebreakers over Sharks & Recreation and Mighty Thunderducks, Spheal Team 6 is 3-4 at 79 points with no tiebreaks over factions vying for promotion, and Sharks & Recreation is 3-4 at 77 points with a tiebreaker over Spheal Team 6. They're all crowded together and focused on beating each other, which leaves some wiggle room for OKC Shell Smashers to pick off one of those 4 still fighting for promotion. They're tied record wise with ST6 & Sharks, but probably trail them by too many points to take advantage of their head-to-head tiebreak over Spheal & Mazer, so they're in the same predicament that Wu Tangela is in: win out, particularly since they play Sharks & Rec next week.
IMPORTANCE OF MATCHES
Mighty Thunderducks vs Rock Paper Slark

Spheal Team 6 vs BraveNerds PVP

OKC Shell Smashers vs Froswraths

Peterborough Doofs vs Mazer Gaming Academy

Musubi vs Sharks & Recreation
IF THE CYCLE ENDED TODAY
---
RELEGATIONS
Emerald to Diamond: Wing Attack, Evanstonks, Icy Wind
Diamond to Platinum: HV Pogo Dojo, TNT Flingulls, Backstage Battlers
Platinum to Gold: Dubz 4 Cheap, C-U Later, Team MichiGengar 
Platinum to Silver: AquaTail HungerForce
Gold to Silver: Hoosier Daddies, Eastcalibur
Gold to Bronze: Play Rough Riders
Silver to Bronze: Gong Rippers, Scizor Me Timburrs
Silver to Copper: Ghostpepper Dunspice
Bronze to Copper: Swellsprouts, Busta Mime
Bronze to Iron: NM PVP
Copper to Iron: OSMO PVP, Wu Tangela Clan, Silph League SA
Iron to Open: OKC Shell Smashers, Froswraths, Musubi, Peterborough Doofs 
PROMOTIONS
Open to Iron: TTT Squad, Stadium Elite Silver, NEB Winter Vortex, Bad Mewtwos
Iron to Copper: BraveNerds PVP, Mighty Thunderducks, Mazer Gaming Academy
Iron to Bronze: Rock Paper Slark 
Copper to Bronze: FletchinDErella Story, Sw1tchMstrz 
Copper to Silver: Team BTW 
Bronze to Silver: SoCal Swablu Blue, POGO Raiders 
Bronze to Gold: Disputi & Screamin 
Silver to Gold: Ohio Nation, Helmet Heroes 
Silver to Platinum: Texas PVP
Gold to Platinum: Lucky Muks, HOMESLICEHOMIES, Blouses PVP 
Platinum to Diamond: Bad Mews, Hammer Heads, North East Battlers 
Diamond to Emerald: Canadian Shieldon, Elite TMS, Muddy Water 
Next Up
---
Diamond: kkPVPFactions
Platinum: PA Perrserkers
Gold: iCarly Fan Club
Silver: Weekend At Burmy's
Bronze: SeaKingPin
Copper: Utah Pokemon Rangers
Iron: Spheal Team 6
Open: SoCal Swablu SD
Hit me up on Twitter at MJGettit, and stay tuned for more FSPN coverage. Also check out the other conferences FSPN articles by Jolt019 (LATAM), Hawkeye117 (EMEA), & Menomorphus (APAC). It's a good day to have a good day.
The opinions and predictions in these articles are of the author alone and not endorsed by the Arena, we love all of our children equally and couldn't possibly pick favorites.
« More