« More
The Silph League Arena
Arena Update
Nov 2, 2020:

GO Battle League Season 5 Updates and Move Rebalance!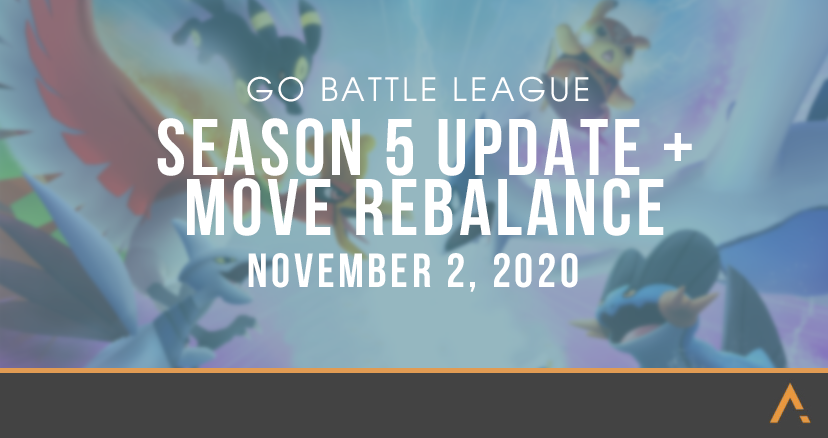 We're a week away from the end of GO Battle League Season 4, and Niantic has just dropped all of the details regarding the next one! (See the full blog post here) Season 5 will function a bit differently from the previous seasons, and includes changes to the rank system, rewards, and an extremely compressed timeline.
We've broken down all of the important info for you, from moveset changes to the new schedule. Take a look!
1. Updates to Existing Moves
Poison Sting will generate more energy, allowing Pokémon that use it to use their Charged Attacks more quickly. This could be a benefit to some Bug and Poison type attackers in the Marsh Cup this month.
2. Moveset Updates
Kanto Rapidash, Typhlosion, Ho-oh, Unova Darmantian, and Chandelure will be able to learn the Fire-type Fast Attack Incinerate.
Kanto Rapidash, Entei, Emboar, and Chandelure will be able to learn the Fire-type Charged Attack Flame Charge.
---
GO Battle League Season 5
Season 5 looks very different from previous seasons. In addition to being much shorter, Niantic has made some big changes to the rank system and rewards.
1. Season 5 Schedule and the New Cups!
The new season of GO Battle League will begin on Monday, November 9th, 2020 at 1:00 pm PDT and end on Monday, November 30th, 2020, at 1:00 pm PDT. Rather than have the season split between the three Leagues, Season 5 will feature 3 different unique cups!
The Little Cup will run from Monday, November 9th to Monday November 16th. Only base stage Pokémon that are able to evolve are allowed, with a CP limit of 500.
The Kanto Cup will run from November 16th until November 23rd. Only Pokémon that have a Pokédex number between #1 and #151 are eligible, with a CP limit of 1500.
The Catch Cup will run from November 23rd through November 30th. You will only be able to use Pokémon caught after the start of Season 5, with a CP limit of 1500. Mythical Pokémon are not allowed.
2. Changes to Player Rank and Rewards
In Season 4, Niantic changed the rank progression by making all ranks up to 9 dependent on winning a certain number of battles. They're taking it one step further in Season 5 by removing MMR from the rank progression and making battles won the requirement to reach all ranks.
Once you hit Rank 7, you'll be able to encounter Legendary Pokémon from the GO Battle League rewards track. These Legendaries will be the same as what is appearing in Legendary Raids at that time. All other rewards will remain the same as previous seasons.
Niantic also confirms that there will be no walking requirement for Season 5, and the remote battling requirements will stay at Good Friends throughout the season.
---
Season 5 brings a big change to GO Battle from previous seasons. Who knows what other new and exciting updates will come in the future, but until then keep battling!
« More