« More
The Silph League Arena
Arena Update
Apr 29, 2020:

GO Battle League Season 2 Update and Move Rebalance!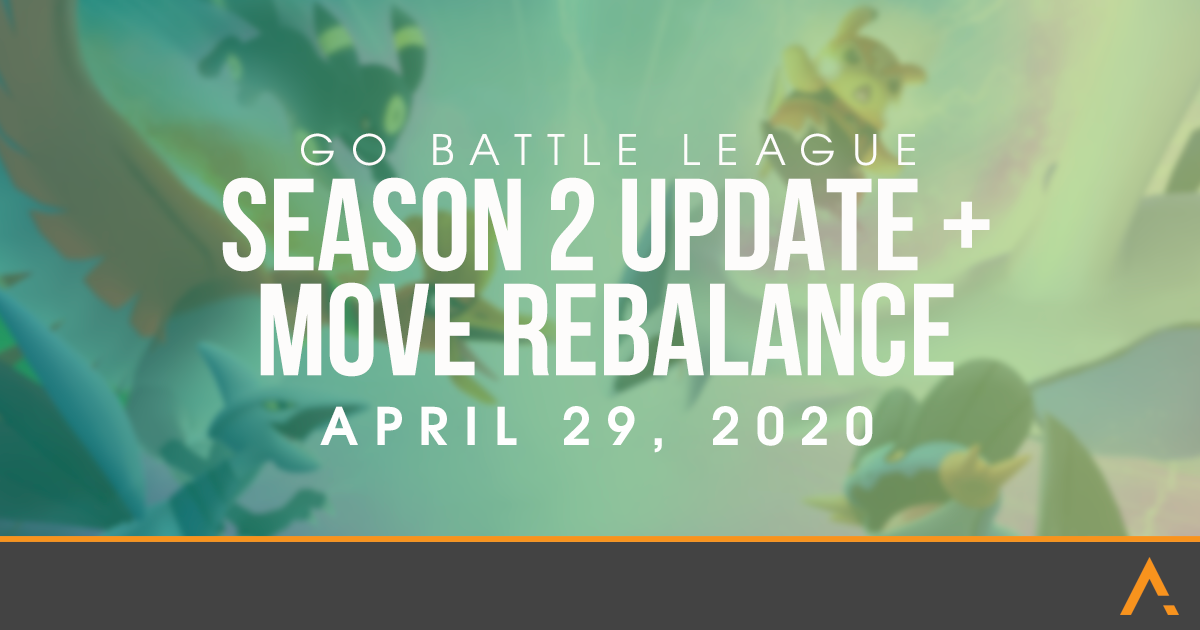 GO Battle League Season 2 is just around the corner and Niantic just announced a huge amount of information to go with it! (Read their full blog post here)
We'll break down the important changes and the impact on the GO Battle League, as well as how it affects the landscape of May's Forest Cup meta. Let's dive in!
1. Updates to Existing Moves
Wild Charge now hits harder and charges faster, with its damage increased from 90 to 100 and its energy cost lowered from 50 to 45, but using it will also lower the user's defense by 2 stages. These changes effectively turn this move into an electric version of Close Combat, and is a definite improve for electric-types like Raikou, Raichu, and Magnezone, among others. It's impact on the meta depends on the League, however. Raikou should see more play in Master League to counter threats like Kyogre and Togekiss, and Alolan Raichu remains a popular Great League pick.
**Raikou will be added to the Forest Cup ban list due to its scarcity at GL level and high expense, but the rise of Magnezone and other Wild Charge users will quickly fill that gap.
Drill Run's energy cost has been reduced from 55 to 45. This is most notably helpful for Pokémon like Escavalier in Ultra League and Exadrill in Master League, but it won't have much of an impact on the Forest Cup.
Moonblast has its damage reduced to 110 from 130, but the energy cost was lowered from 70 to 60. In addition, it will have a 30% chance to lower the opponent's attack by 1 stage. These changes will help the main Moonblast user, Cresselia, matchup better against Giratina GO Battle League, but we will most likely see a bigger impact in May when it adds Grass Knot to its moveset.
2. Moveset Updates
| | | |
| --- | --- | --- |
| Palkia | Aqua Tail | The addition of Aqua Tail is a huge buff for Palkia, giving it the ability to bait shields and making it a serious contender in Master League. Make sure you have a good one and don't forget to make it your buddy! |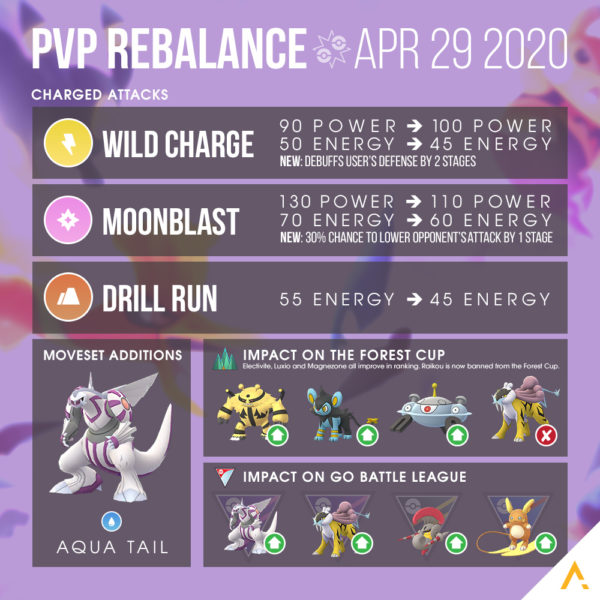 ---
GO Battle League Season 2
Season 2 will bring many changes to GO Battle League, with adjustments to the season schedule and rewards, as well as remote battling through QR code. But the most notable is the inclusion of first ever GO Battle League Cup, the Premier Cup!
1. Season 2 Schedule and the Premier Cup!
The new season of GO Battle League will begin on Friday, May 1st, 2020 at 1:00 pm PDT and end on Monday, July 6th, 2020, at 1:00 pm PDT. We'll see an increase to the duration of Great League and Ultra League, while Master League will remain 2 weeks long Here's the season breakdown: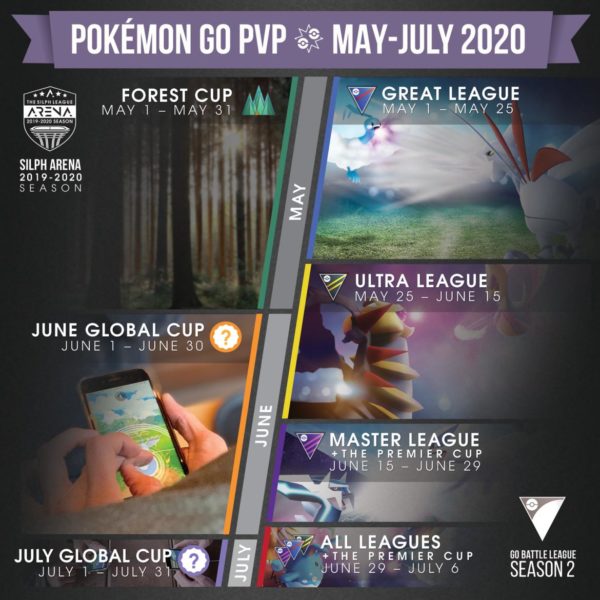 The first GO Battle League Cup will be running during the Master League window. Much like Silph Arena Cups, there will be restrictions on the available Pokémon you can bring to battle. The Premier Cup will run from June 15 through June 29. The rules are:
No limit on Pokémon CP (Master League)
No Legendary or Mythical Pokémon
Expect more information and analysis to come about this new format!
2. Battle Remotely  via QR Code
In another move to make battling easier for anyone stuck at home, Niantic will be making remote battling available through QR code scanning. Now you will be able to participate in tournaments with competitors around the world without needing to add them as friends or opening gifts. Good Friend and up remote battling will still be available, in case you don't have access to a second device for scanning QR codes.
3. Reward and Ranking System Updates
Some changes are being made to the ranking and reward system this season as well.
Reward Encounters will be awarded after your third win on the basic rewards track and after your first win on the premium track.
You'll now see the following as guaranteed reward encounters:

Stunfisk at Rank 4
Rufflet at Rank 8
Scraggy at rank 9
A new Avatar Pose will be awarded at Rank 10.

More wins are required to reach ranks 4-7, making the climb through the ranks more of a challenge and a better indicator of skill.
Finishing the season at Rank 7 or higher will award one Elite Fast TM instead of an Elite Charged TM.
All other end-of-season-rewards will remain the same as Season 1.
---
As always, Pokémon Go PVP is an ever-changing landscape. Whether your goal is the dominate the Arena Leaderboards and fight to become World Champion, or to climb the rankings in GO Battle League, these most recent updates are to get your blood  pumping!
« More