« More
The Silph League Arena
Arena Update
Mar 19, 2019:

Get Ready for the Kingdom Cup!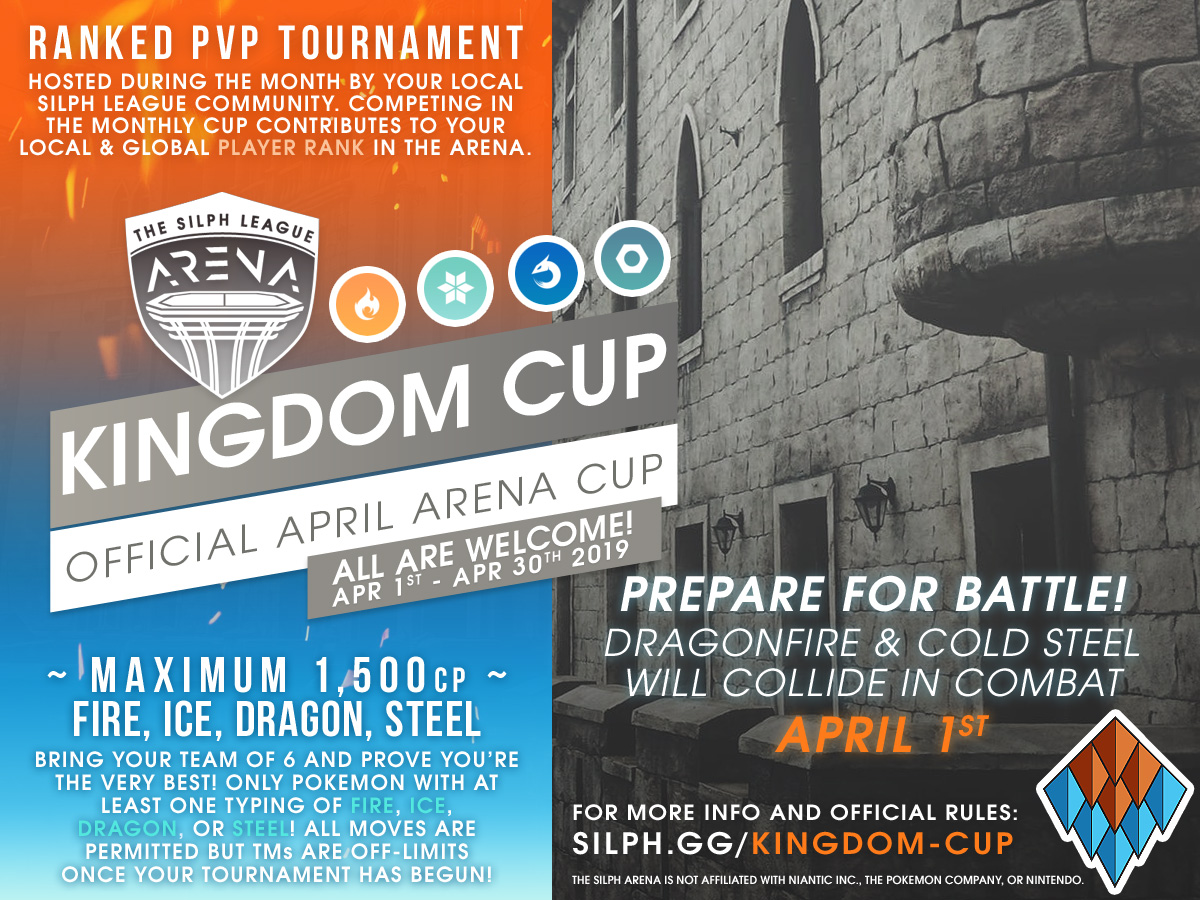 The Tempest Cup is raging in thousands of cities around the world, but in the eye of the storm, we'll take the opportunity to announce what's on the horizon! It's time to start strategizing for the Arena's next Cup: the Kingdom Cup!
Prepare to show the world your mastery with your battle team of Fire, Ice, Dragon, and Steel-type Pokemon! This Cup repeats the 'one per species' rule introduced in February, but the competition will be fierce and novel. Be sure to study hard, build your best team, and we'll see you in the Arena in April. Read more here.
We're also excited to share that the Kingdom Cup is the first Arena Cup with official Cup prize items! Take a look:
From now on, Community Leaders have the option to order these official items from the Arena to sell or award at their accredited Cup tournaments! We love how the first run turned out, and can't wait to begin collecting all the Series 1 collectibles. (Boulder, Twilight, and Tempest Cup items will become available retroactively – but we're nailing down our international supply chain first.) Pre-orders for the Arena's May Cup will open tomorrow!
LEADERBOARDS, PLAYER TIERS, & GLOBAL RANK
Leaderboards, Player Tiers, and global Player Rank have taken the Arena team much more energy and resources than we anticipated to finalize, but we've taken time to make sure they'll be meaningful and motivating to everyone who participates in the Arena. We've have needed to resolve a lot of complexity in policy, logistics, and development – but we're very happy with where it's landing, and we hope you will be too. Stay tuned for announcements on that front soon!
FIND A LOCAL TOURNAMENT!
Our Tournament Map which launched last month lists over 1,500+ tournaments taking place in the last two weeks of March! Never fought in the Arena before? Find a chance to compete locally on the map!
Good luck to all in the last two weeks of the Tempest Cup! Keep the feedback coming! And we'll see you in the Arena.
« More