« More
The Silph League Arena
Arena Update
Dec 16, 2022:

Guide to Safe In-Person Tournaments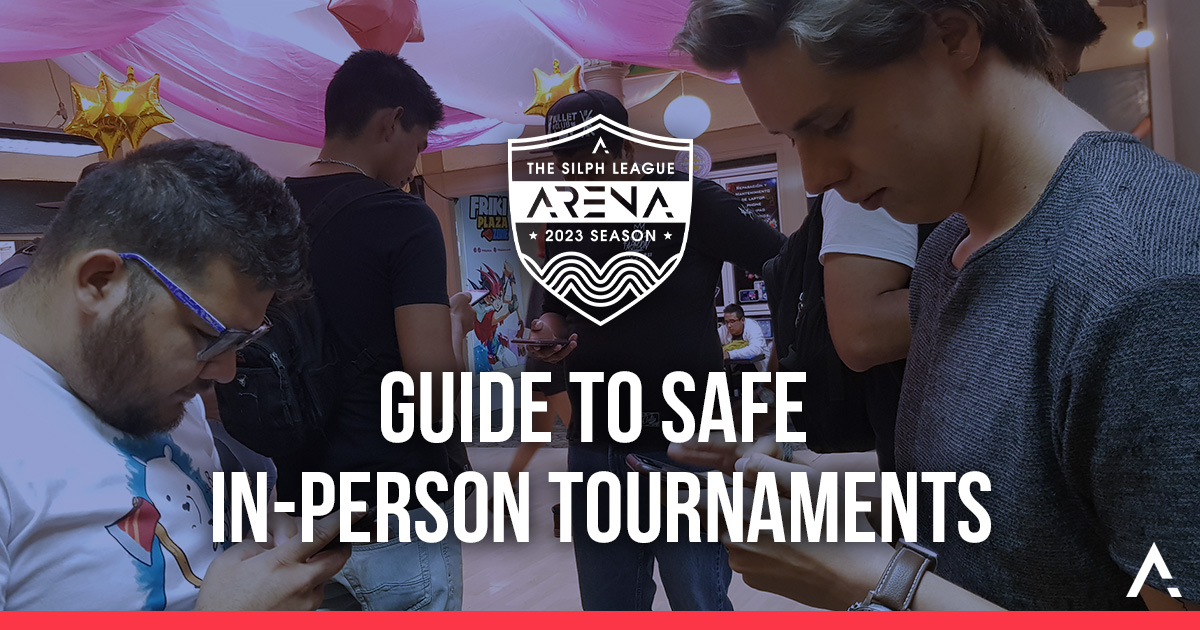 The world has changed a lot since the beginning of the Arena, and in-person events have changed as well. For Tournament Organizers, this means you have to be conscious of the realities in your region and take measures to ensure everyone in your community, yourself included, can be together as safely as possible. We hope this guide helps you with that task! The guide is divided into two parts, one for Tournament Organizers and one for Competitors.
TOURNAMENT ORGANIZER BASICS
Before planning your first in-person event, check with your local authorities for the exact guidelines and restrictions being applied in your area. Protocols issued by your governments exist for a reason and should be followed at all times, no matter how strict they are.
First, determine if in-person gatherings are allowed in your area and, if you are, how many individuals are permitted to gather in the same space. For the start of 2023 Season Silph Arena is lifting all limits on in-person tournament sizes.However, if your local ordinances are restricted to smaller gatherings, you must follow that protocol. No Silph Arena tournament should have more competitors and staff than the allowed limit. In addition, all tournament staff and competitors must abide by any additional required safety protocols (wearing masks, social distancing, etc.).
Tournament Organizers are also encouraged to make appropriate accommodations for competitors with special needs. For example, they might consider having one room in the venue designated as "masks required" to enable those with immune issues to participate. Arena rules on in-person events require that all participants be at one site, but it is acceptable to have separate spaces within the site.
Remind your community not to attend a tournament if they are feeling ill! Share this image with your communities and ask them to do a "self-check" before checking in.
PICKING A VENUE
Now that you've checked your local ordinances and reminded yourself what COVID-19 symptoms to check for, it's time to find a venue. Weather permitting, outdoor locations are highly recommended. Look for a public park or garden area if possible. If meeting outdoors is not possible, look for a venue that will allow you to avoid excessive crowding. Check with your local regulations to see if social distancing (such as about 2 meters (or 6 feet) between competitors) is recommended.
PREVENTATIVE MEASURES
Whether your venue is indoors or outdoors, staff should be alert throughout the event. Ask competitors if they're experiencing any COVID-19 symptoms as they arrive, and remind them to follow all local requirements on mask wearing or social distancing. Regardless of local requirements, competitors who wish to wear a mask and maintain social distancing during the tournament should be accommodated as much as possible.
Wearing a face mask is still one of the most effective ways to stop the spread of COVID-19, and we strongly suggest that all staff and competitors wear one – especially if you're in an indoor venue. We also suggest having hand sanitizer available during the tournament. Competitors can bring their own, or Organizers can provide if possible. If you can't find hand sanitizer, a mixture of ethanol alcohol and water (70%-30%) will do the trick! You can put this mix in two cheap sprayers.
Before the tournament starts, we suggest having each competitor give their name, phone number, and signature to assist with contact tracing, should anyone that attends test positive for COVID-19. This may be a requirement in your country, be sure to check beforehand!
COMPETITOR BASICS
First and foremost, do NOT attend any in-person tournaments if you or a member of your household are feeling ill. Only attend if you are feeling well and showing no symptoms of any illness.
Competitors are required to follow any safety ordinances put in place by your local governments or tournament staff. This can include, but is not limited to, wearing a face mask, social distancing, temperature checks, and more.
We recommend bringing a small bottle of hand sanitizer with you, and frequently sanitize your hands, device, and tables or equipment you may have touched. Be mindful of social distancing, even if you're outside or wearing a mask. A distance of about 2 meters (6 feet) should be observed at all times.
Some countries require attendees to complete a form with your name, phone number, and signature to assist with potential contact tracing. Help your Tournament Organizers out by completing the form without issue. If you experience any COVID-19 symptoms after the event, get tested and notify the organizers if you test positive.
Last but not least, bring your competitive spirit, a good sense of fun, and your strongest battle team! Have fun and be safe!
LOOKING AHEAD
In the end, the decision to host an in-person tournament in January lies with your organizers and your communities. We encourage everyone to look at the situation in their areas and their local ordinances before making a decision. In the meantime, remote tournaments will continue to be available, and no communities will be at a disadvantage for not holding in-person tournaments.
Also, don't forget about Round-robin! This tournament format allows for a smaller amount of competitors to reach a higher number of round and can be conducted in-person. In addition, tournaments will still be ranked with as few as four competitors.
Restrictions on in-person tournaments may be ongoing or altered at any point based on the evolution of the global pandemic and communities' abilities to host safe in-person events. Please follow your local ordinances, and check our channels for future updates and guidance.
« More