« More
The Silph League Arena
Arena Update
Jan 9, 2022:

January All-Star Invitational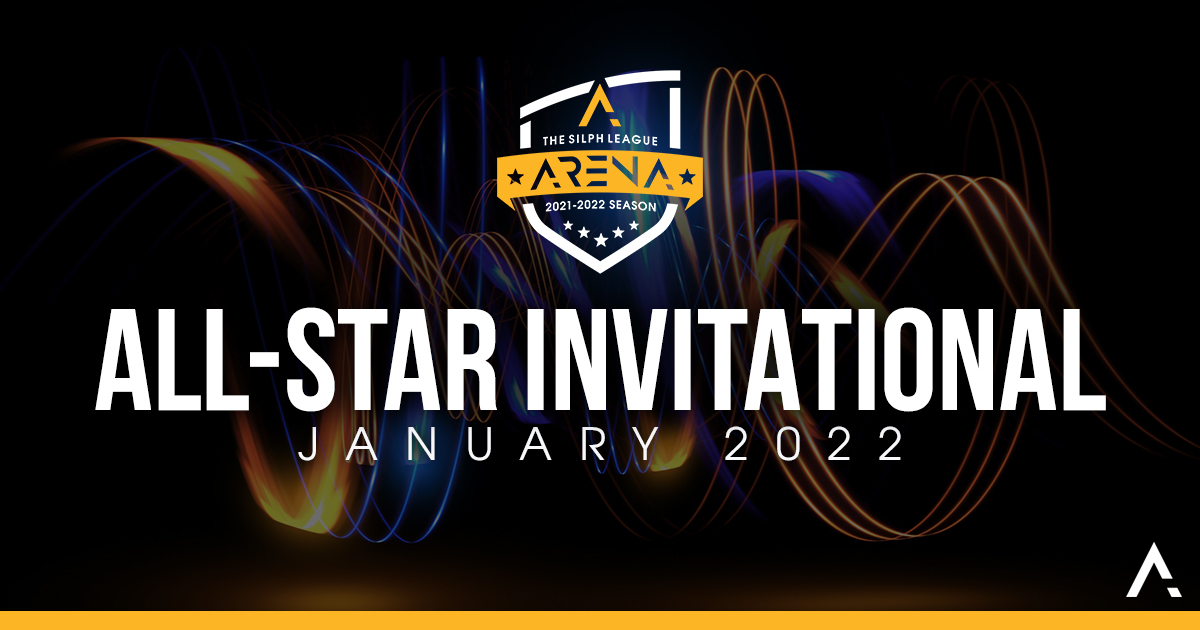 While enjoying a break from the competitive rank grind this season, get ready for some All-Star battles! Once again this January, a select group of battlers across the globe have been invited to compete in an All-Star Invitational tournament! The tournament will feature a familiar team-style format similar to Silph Arena Factions.
ALL-STAR FORMAT
64 competitors have been split into 8 teams – each with 7 competitors and 1 substitute. In the All Star Invitational, the teams will compete against each other in a single-elimination tournament!
Like Factions, team members will take on a specialist role, but will each compete in a unique Great League meta. To maximize fun and keep competitors on their toes, the metas will be revealed to all teams 48 hours before the tournament begins!
During each round, competitors will battle in a best-of-3 match against the opposing team member in their corresponding specialist role. The team with the most wins will advance to the next round.
Unlike normal Arena tournaments, specialists will be allowed to change their roster of Pokémon each round. However, they will be required to battle in the same meta for the entire Invitational.
INVITATIONAL TIMELINE
PRELIMINARIES
SEMI-FINALS
FINALS
Sunday, January 16th
@ 00:00 UTC – Wednesday, January 19th @ 23:59 UTC
Thursday, January 20th
@ 00:00 UTC – Friday, January 21st @ 23:59 UTC
Saturday, January 22nd
@ 00:00 UTC – Sunday, January 23rd @ 23:59 UTC
8 teams
4 teams
2 teams
CATCH THE ACTION!
The Arena will be keeping the world up to date on all of the action over our various platforms, including Twitter, Facebook, Discord, and more! Each team is allowed to stream their own matches on their own channels. We will keep an updated list of any matches being streamed as they are shared with us – so keep an eye on our channels!
MEET THE COMPETITORS
The below competitors will be split into teams assigned by the Silph Arena. Additional invites may be sent to fill in declined spots. Teams will decide their own team captain & name. Team captains will draw lots to decide tournament seeding, and will be responsible for coordinating matches with other team captains.
4THEBATTLES
ALLAFLUTTER
ARROHH
ASHADYEQUATION
BALK88
BARTHEGAMER
BIBILICIOUSS
CALEBPENG
CLEONARDO77
COUNTXEVIOUS
DCVULPIX
DOONEBUG97
ELISANOBLE
HARELUYABOYZ
HOTPOKET777
HOUSESTARK93
INADEQUANCE
ITSJORGINH0
IVOBE1
JAYSFAN55
JBQ712
JENNVONSCHWEETZ
JOLT019
JOSHV009
JRESEAWOLF
KAKUNAMATTATA42
KATY46
LEANDROOO
LTSTRAINERRED
LUNDBERGER
MAR0MARR0N
MATTHEWBREWER
MJGETTIT
NHOFF
NICKNAME29585
NOFUNPAYNEDUNN
PANICK23
PARTYMARTY18
PAULASHA97
POLYMERSUP
REIS2OCCASION
RIPPERLI
ROCKETCLARE
SIRUCA
SONOROMAN
SOSAFLO
SOYER98
SPEEDIESTCHIEF2
SPLEENLEJEUNE
ST1X10
STATASTAN
STEEEEEEEEEEVE7
STONECOLLECTION
SWAGGRON333YT
TANGENT444
THOTECHTICAL
TOSHI9227
VANNIII
VENTUSKI
VTENACITY
WALLOWER
YERKOSKI
YESTERDAYSAN
YONKOUJEAN
« More