« More
The Silph League Arena
Arena Update
Sep 17, 2019:

Player Rank And Rules Updates for the Coming Season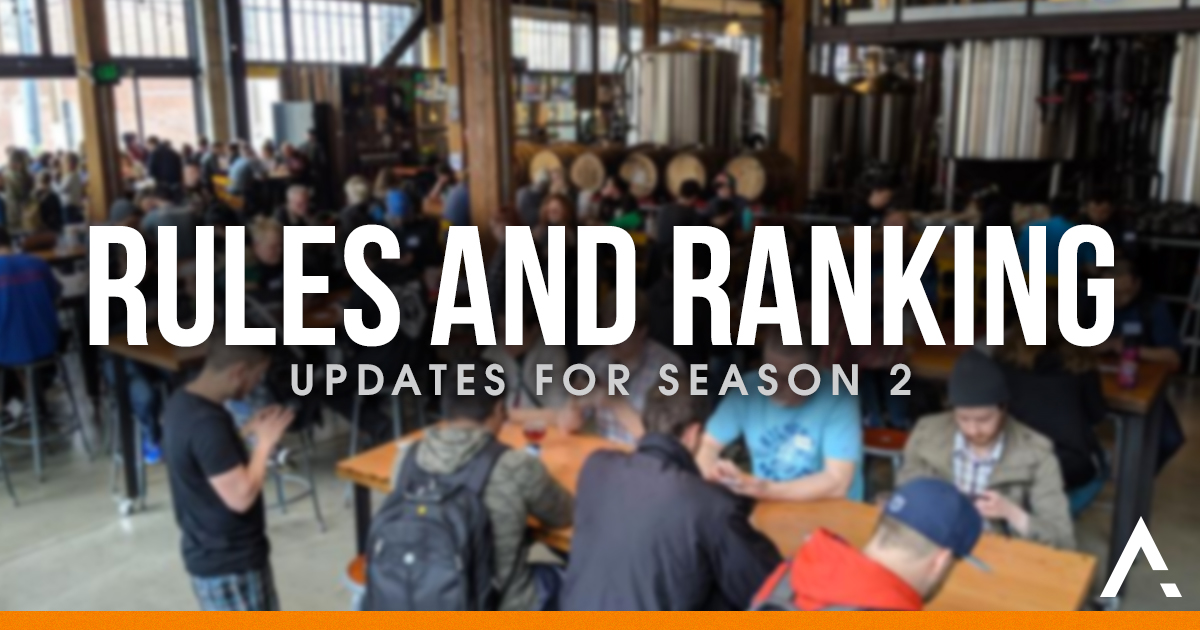 As Season 2 peeks over the horizon, almost every part of the Arena is receiving important updates. We've seen the new Season Roadmap, expanded our team, revamped the Gear Store, and today the official Arena Rules and even our ranking algorithms have undergone large upgrades to get ready for the Season's start in two weeks. All competitors and organizers should familiarize themselves with these changes!
Season 1 taught us many lessons, some of which exposed gray areas in Arena policy or opportunities to improve our ranking algorithms' analytical power. Without further ado, here are the major improvements to player rank and the rules for the 2019-2020 Season!
5 Ranking Algorithm Updates
We have a few exciting updates to how player ranking will function beginning October 1st when Season 2 opens.
1. Two New Player Tiers!
With the addition of more Cups this season, two additional player tiers will be obtainable above Ace! This means that the most skilled players will be able to reach new heights during the season to prove they are the very best.
2. Every battle counts!
In the new Season, competitors will always get three opportunities to battle each other. Each battle is a chance to prove your strength as a competitor and a close match (e.g. losing one battle and winning two) reveals a more even matchup than sweeping victories.
In Season 1, the Arena simply recorded the result of 'Best of 3' matches as a singular win or loss. This season, a loss affects player ranking no differently than in the prior Season, except now competitors who have gone 0-2 will have one more chance to prove the opponents' skill gap was actually narrow – and the leading opponent must prove their sweeping victory was more than luck by repeating their success in a third match.
A competitor may opt to concede this third match if they wish (at no ranking penalty). In the eyes of the Arena an 0-2 match is the same as an 0-3 match – and both affect player rank the exact same way as a simple 'Loss' from Season 1. But that competitor only stands to gain by playing the third match for one extra chance to prove the match was close!
All match victories increase your player rank – and every battle counts!
Furthermore, this information can be used as a secondary tie-breaker ("Battle Win Count") to augment the Buchholz tie-breaker!
[Note] This section was updated on September 26th to reflect the latest changes in Arena protocol!
3. Opponent Strength
The strength of your opponent, while already a factor in Season 1 rank changes, will more heavily affect your ranking this Season.
4. Minor Procedure Change For Weighted Cups
As in Season 1, competitors may denote multiple Cups as 'eligible' for weighted rank impact – but now weight will be assigned to the earliest of the Cups which qualified for rank, in chronological order of when their first round began (instead of when the tournament concluded).
[Note] This section was updated on September 26th to reflect the latest changes in Arena protocol!
5. 8-Competitor Tournaments & Qualifying for Rank
Tournaments will now be qualified for rank if Round 2 concludes with at least 8 people. This means that If someone leaves in the final round, the tournament will still count as ranked for all the participants, and the player that left will, as usual, receive a loss.
Over 10 New Clarifications in the Arena Rules
Season 1 taught us many lessons, some of which exposed gray areas in Arena policy. Our legislative team has spent countless hours cleaning up and improving the Arena Rules to help provide the best and most fair experience for you and your communities.
One important note: throughout the beta season, some infractions were overlooked due to confusing rules and the lack of enforcement tools. Season 2 will see the Arena Rules enforced more consistently across the board. Make sure you're familiar with all of the rule updates, as it is the responsibility of the participants and Tournament Organizers in the Arena to know these rules, follow them as written, and most importantly abide by the spirit of the rules.
Take a look through these highlights to see some of the bigger updates, but be sure the read through the full Arena Rules page so you are prepared for the start of Season 2!
1. Ranked Open League Tournaments
Clearer names for the different tournament types in the Arena are now in effect! What used to be called simply 'Ranked Tournaments' are now more accurately called "Open League" tournaments – as they are open Great, Ultra, and Master League tournaments that do qualify for rank.
Many other clarifications have been added to these and other Ranked tournament types (like Cups), such as reinforcing that no alterations, restrictions, or changes are allowed to be made beyond the basic Arena Rules, what exactly constitutes "altering" your Pokémon after the start of the tournament, and officially stating the Arena stance on the eligibility of new Pokémon and moves that are released mid-month. One big addition to notice – the Species Clause (no duplicate Pokémon on a battle team) is now applied to all Open League Ranked Tournaments as well as all Monthly Cups.
2. Clarifications on Restricting Entry
Policies on the Tournament Organizer's rights to restrict entry and which participants' rights are protected have been added and clarified.
3. Hidden Information
It is the responsibility of the competitor to protect their own hidden information during a tournament, including which Charge Move is being used at any given time. It is also their responsibility to not actively seek out the hidden information of their opponents beyond normal observation during their battles.
4. Battle Team Checks
Information has been added about what information Tournament Officials are and are not allowed to request from their competitors during and before a tournament. This will help competitors protect their hidden information as well as aid the Officials in running a clean tournament without violating privacy.
[Reminder] Community leaders still retain the option to bar competitors who they have banned from their community for violating their community rules – including GPS spoofing.
5. Technical Errors
This section has been expanded to make clear what may or may not constitute a rematch, and the protocol to follow in case of a dispute or issue.
6. Bluffing
Bluffing a member of your battle team is allowed, however by doing this you are sacrificing one of your 6 Pokémon spots. No Pokémon can be subbed into that spot, altered to fit that spot, or added to your registered team once the tournament has begun.
7. Improperly Determining a Winner
The winner of a game or match cannot be determined arbitrarily. This means no coin flips, random picks, and any other method beyond battling or forfeit.
8. Outside Assistance and External Resources
Competitors should not receive assistance from any other person during the tournament, whether it is from spectators, other competitors, or from people not at the tournament.
Competitors also may not utilize any programmatic or otherwise dynamic, scripted resources which perform or retrieve personalized calculations or simulation data to provide strategic matchup information based on a competitor's (or their opponent's) specific Battle Team or lineup (i.e. PvP simulators or any program that requires inputting information describing a Battle Team).
Webpages with top performing 'counter' lists, notes, type charts, and other resources are permitted – but remember to stay within the time limits set by the organizers!
9. Travelers Cards Must Be Public for Ranked Competitors
Any competitors wishing to play ranked during the 2019-2020 Season are required to leave their Travelers Card (and tournament history) accessible to the public. No hiding tournament histories this Season!
10. And Several Other Updates!
Other updates include:
Battles that time out are not considered a draw/tie, and the winner is determined by the result shown in the journal.
Rematches of a given battle must use the same Battle Party, with the same lead Pokemon.
GPS manipulation – competitors who have falsified their GPS must "opt out" of player rank.
And more. Be sure to read through all of the updates Arena Rules before your first Season 2 tournament!
Be Prepared and Play to Win!
Your goal is to claim victory in the Arena. Ours is to challenge and test you on a fair and level playing field so you can win it fair and square. Be sure to take a look at the complete Arena Rules so you're ready to defeat your opponents in our first Cup of the Season – the Sinister Cup!
Questions? Ideas? Join competitors and tournament organizers from around the world in real time discussion and collaboration on The Silph Arena Discord server or on The Silph Arena Subreddit!
We're excited to have these significant improvements coming to the Arena this Season, and we hope they'll help provide an improved competitor and organizer experience this year. See you in the Arena!
« More