« More
The Silph League Arena
Arena Update
Sep 28, 2020:

Player Rank and Rules Updates for the 2020-2021 PvP Season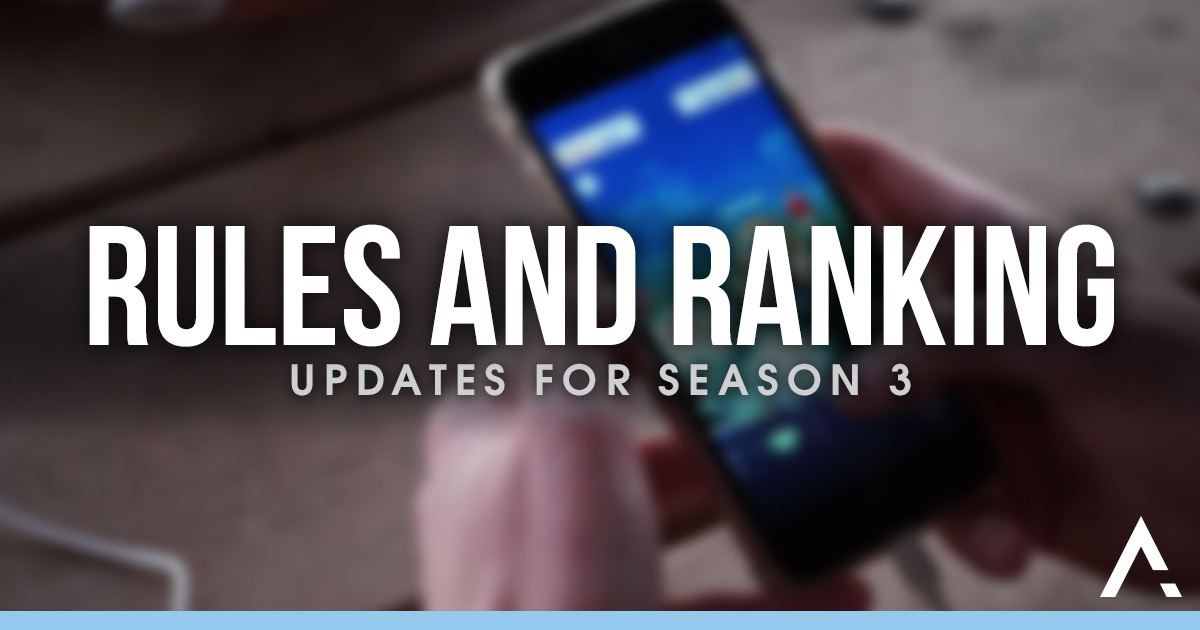 The start of the Competitive PvP Season is just a few days away! Competitors around the world are putting the final touches on their Sunrise teams and getting in some last minute practice battles. But first, we have some exciting updates to Player Rank and the Arena Rules to share with you! All competitors and Tournament Organizers should familiarize themselves with these important updates!
Player Rank Updates
We have a few changes to Player Rank that will go into effect on October 1st for the upcoming PvP Season.
1. Procedure Change for Weighted Cups
Similar to past seasons, competitors can check the box to choose multiple Cups as 'eligible' for increased rank impact, but that increased weight will only be assigned to the Cup that began the earliest chronologically, and concluded properly to be qualified for rank.
For the 2020-2021 Season, competitors will now be able to change whether or not they want to 10x weight a certain Cup at any point before the conclusion of that tournament. If you are not performing as well as you would've hoped during a tournament, you can opt out of the 10x weight in the middle of that tournament and save it for a later Cup. Later on in that same tournament if your record improves, you can decide to re-weight that tournament (before it concludes) and receive the increased rank impact.
Remember, the earliest Cup to begin that is marked 'weighted' will receive the increased rank impact, even if a different Cup concludes first. Pay attention to which Cup you want to weight and keep track of your tournaments!
Allowing competitors the option to change their 10x weighted Cup in real time as they see their progress unfold will remove some of the unintentional pressure to make the "right" selection ahead of time, and allow competitors to focus on the battles themselves, taking the gambling aspect out of the equation. Every tournament still matters, but the decision is now more firmly in the competitor's hands.
2. Adjustments to Diminishing Returns
Competitors will have the opportunity to play in 6 total ranked tournaments each month. The ranking algorithm has been adjusted so that your first unweighted tournament will have twice the impact as it did in previous seasons, with a 0.4 deduction to that impact for every subsequent tournament. It will follow the pattern of: 10x, 2x, 1.6x, 1.2x, 0.8x, and 0.4x.
Be aware: your 10x weight tournament must be one of those 6 tournaments. If you decide not to give the increased weight to any of your first 6 tournaments in a month, you will not receive a 10x weighed Cup that month.
Competitors previously had the opportunity to compete in up to 10 ranked tournaments each month. Although not many had the access or time to participate in this many tournaments, the high cap combined with the ease of access brought on by remote tournaments drove many to take on too many tournaments and ultimately feel burnt out.
We believe this change combined with the mid-season break should help alleviate some of that pressure and help address some of these feelings of being burnt out.
3. Opt Back into Rank
During the month of October, competitors that voluntarily opted out of rank during the 2019-2020 Season will have the opportunity to rejoin the Arena Leaderboards for the upcoming Season. You can find the option to opt back in under the ME tab on silph.gg. Competitors who opted out due to GPS manipulation are still required to play unranked.
This option will only be available for the month of October 2020, so please plan accordingly!
Clarifications and Additions to the Arena Rules
Each Season teaches us new and important lessons, some of which expose areas in Arena policy that require a hard look and improvement. The Legislation Team has worked constantly during the offseason to clean up and clarify the Arena Rules to help provide a fair and balanced competitive experience for everyone.
Take a look through these highlights to see some of the bigger updates, but be sure the read through the full Arena Rules page so you are prepared for the start of Season 3!
1. Rematch Procedure Update
The procedure for playing rematches caused by technical malfunctions has been changed slightly. Competitors will still be required to keep the same lead Pokémon for the rematch, but the other two Pokémon on their battles teams can be switched.
2. Clarifications on Battle Start
The battle starts officially when the first Pokémon has been visually revealed to either competitor. If there is a technical malfunction before the first Pokémon has been revealed, competitors may choose completely new battles teams. If either competitor sees either Pokémon, however, you must abide by the same lead-different teams rematch rule.
3. Mega Pokémon
Mega Pokémon are not allowed in any ranked or unranked Arena tournaments. We will continue to evaluate and consider the use of Mega Pokémon in the future.
4. Changes to Tie Breakers
Battle wins has replaced Buchholz as the recommended primary tie breaker for Arena tournaments.
5. Coaching
Coaching or piloting of any sort is considered Outside Assistance and is not allowed during an active ranked tournament, including during matches, right after a battle, or in between rounds.
6. And Several Other Updates!
Additional updates include:
Specifics about live-streaming during a tournament and protecting Hidden Information.
Defined various adjudication levels for different types of events.
Updated the Tournament Roles sections to be clearer about the roles and responsibilities of officials, competitors, and spectators.
And more. Be sure to read through all of the Arena Rules before your first Season 3 tournament!
It's time to show your skills on the battlefield!
As you prepare for your first tournament, be sure to check over all of the updates on the Arena Rules. We're working hard to provide a fair and level battlefield for all competitors, and we need you familiar with all of the rules before you take on your first opponent of the Season!
Questions? Ideas? Join competitors and tournament organizers from around the world in real time discussion and collaboration on The Silph Arena Discord server or on The Silph Arena Subreddit!
The Sunrise Cup is just days away! The Arena Team is beyond excited to watch the competition unfold, and we hope that this new insight in the rules and Player Rank help provide an improved experience for you this year. See you in the Arena!
« More