« More
The Silph League Arena
Arena Update
Apr 18, 2019:

Prepare for the Nightmare Cup!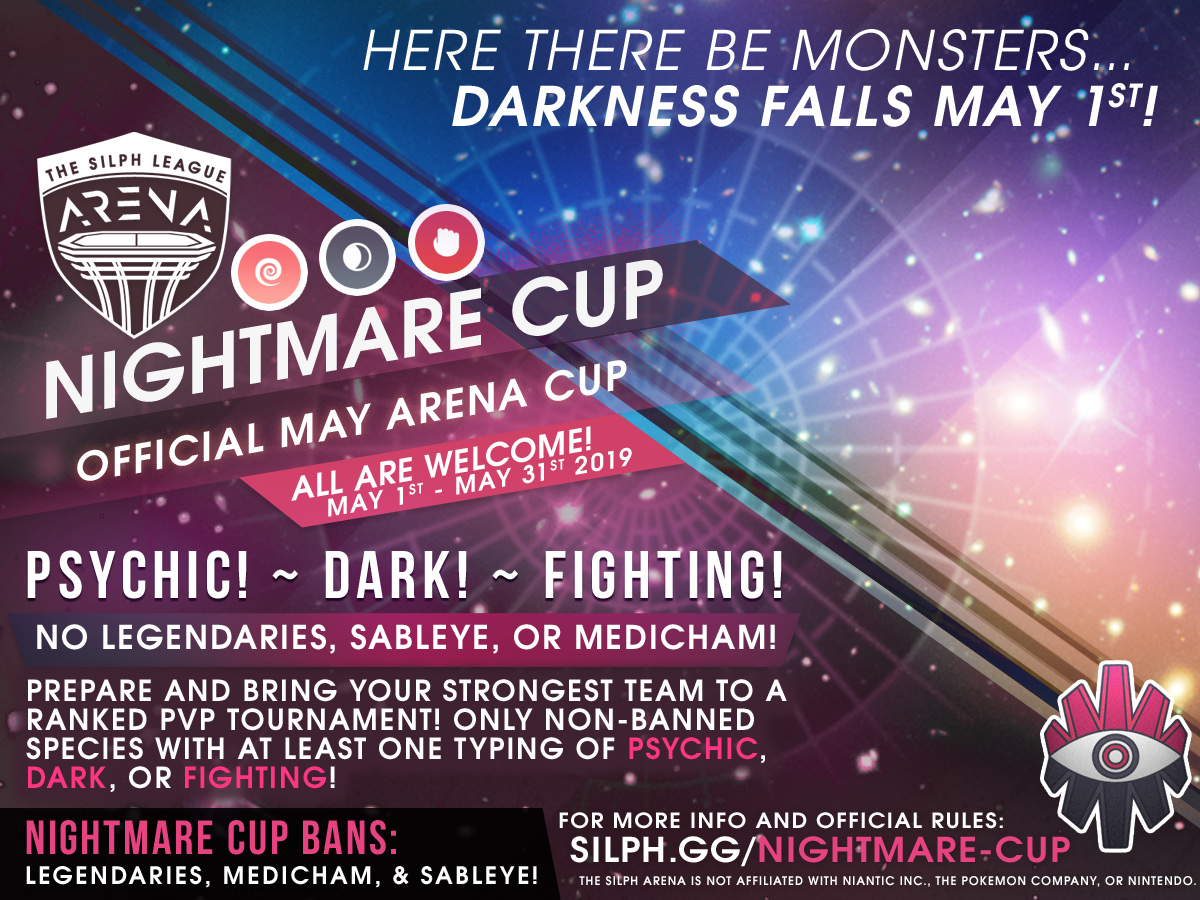 ANNOUNCING MAY'S GLOBAL CUP: THE NIGHTMARE CUP!
MAY 1ST – 31ST
The Silph Arena's fifth global Cup begins on May 1st! With it comes a new chance to prove your skill and increase your global and local player ranking! The Nightmare Cup is a three-typed Cup of monsters inspired by the Pokémon that might haunt the dark places of nightmares! There are no new rule changes from April's Kingdom Cup, but for the first time restrictions have been applied to specific Pokemon species! Here's what you need to know:
WHAT IS THE NIGHTMARE CUP?
Each month the Silph Arena holds a month-long Cup – a 'themed' PvP tournament – that provides tens of thousands of trainers around the world a specially-designed competitive challenge and a chance to prove they're the very best. The Silph Arena is the world's largest global network for ranked Pokemon GOTMtournament play.
During the Cup (May 1st – 31st), local Silph League communities host and record a special tournament using the free Silph.gg tools. Wins and losses in this local tournament affect your player rank on local and global leaderboards – and may eventually even earn you an invitation to compete at Regionals and even the World Championships at 2019 GO Fest & Safari Zone!
Find a local tournament near you on the Tournament Map!
THE NIGHTMARE CUP RULES
The Nightmare Cup has a few special rules (designed to provide added challenge and fun) that differ from standard PvP combat in Pokemon GO:
Competitors will bring a team of 6 Pokemon (and register them before the tournament begins). All battle parties used must be comprised of these 6 Pokemon.
Matches are played in Great League: only Pokemon up to 1500 CP are permitted in the Cup.
Only Pokemon with at least one of the following types are permitted: Psychic, Dark, or Fighting.
Legendaries, Mythicals, Sableye, and Medicham are banned from use in this Cup!
Only one of each Pokemon species is permitted on your team of 6. (No species duplicates!)
Arena Rules will be followed in all other particulars.
Take a moment to review the Arena Rules linked above – particularly clarifications in regards to technical difficulties and an optional coin toss to determine which opponent sends battle invites, due to a suspected ordering advantage.
HOW TO COMPETE
Registration for the May Cup will become available to local community leaders on April 18th – but Nightmare Cups must be scheduled for dates between May 1st and May 31st. Find a Cup tournament near you via the Tournament Map!
« More