« More
The Silph League Arena
Arena Update
Jan 21, 2020:

3 Rule Updates And A Word On Conduct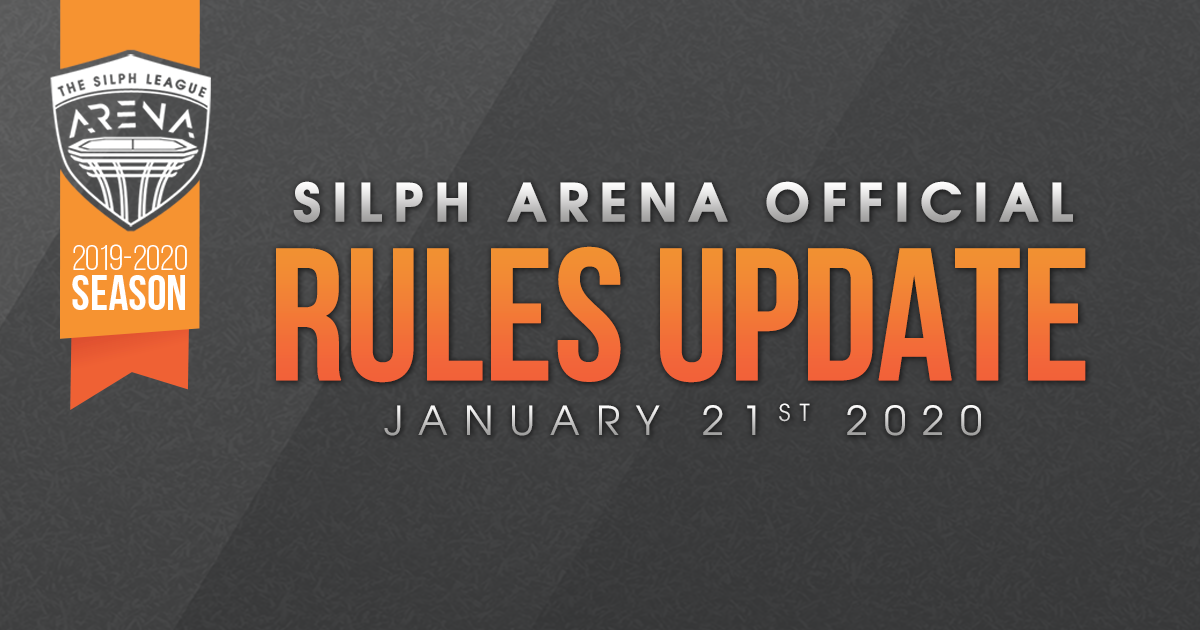 Due to several recent changes in Pokemon GO, our Legislation Team has made a few updates to the official Arena Rules. Visit the Arena Rules page to see all of the details, but here are the highlights competitors should know:
---
1. Best Buddies in Ranked Tournaments
The rules have been clarified regarding Best Buddies. Section 1.1 now explains these are permitted in ranked tournaments. However, in any given tournament, only one may be used in its boosted state and you may only use it at the registered CP.
You can change your buddy between rounds, but be sure to switch it back before you battle with your best bud!
---
2. CMP Change: No More Coin Tosses!
Previously, coin tosses were permitted to determine Charge Move Priority (CMP) – but with the changes that went live today this is no longer influenced by whomever has their party prepared first. References to CMP and optional coin tosses have been removed from the Arena Rules, and the subsequent rule numbering was adjusted accordingly.
As a reminder, priority when Charge Moves are simultaneously fired is now awarded to whichever Pokemon has the highest attack.
---
3. Declaring Your Country
Section 1.9 has been updated to include guidelines for declaring your country on your Travelers Card. Moving forward, this will be a one-time selection intended to reflect where you consistently battle or primarily reside. If you need to change your country on your card, send an email with the request to team@silph.gg. Competitors found falsifying their country will receive punitive action(s) and may forfeit their ranked status in the Arena.
---
4. Niantic Strike Policy & Competitor Conduct
Lastly, the Arena team is closely monitoring a situation regarding competitors who may have violated Niantic's Terms of Service and the possible correlation to an error received when attempting to send them an EX raid invite. The Arena has never permitted competitors who have falsified their GPS coordinates (at any time) to participate in player rankings, and our Legislation Team works hard to provide a fair playing field for all competitors.
However, "witch hunting" will never be tolerated in the Arena.
Your feedback is important to help us run a fair and competitive league, and we encourage all competitors and organizers to help hold their communities accountable, but that should never take the form of harassment, bullying, or public attacks of any kind.
Until or unless Niantic provides clarity on exactly which circumstances cause these errors to occur, an Ex Raid invite error alone is not substantial enough evidence to warrant punitive action by the Arena. And as always, remember that any evidence or concerns about a competitor's misconduct should be submitted via the Misconduct Report form, not discussed in public channels.
The Legislation team takes every report seriously and investigates each one thoroughly. While we do not comment on ongoing investigations or actions taken, please know that no punitive action is taken lightly or without sufficient evidence to support it.
---
As the game continues to grow and change, so does the Arena. The Legislation team remains focused on providing a regulated battleground for honest competition for the tens of thousands of Arena competitors in over 90 countries.
Thank you all for caring as much as we do about the integrity of the Arena.
– The Arena Legislation Team –
« More