« More
The Silph League Arena
Arena Update
Jun 27, 2019:

Dortmund: Get Ready for the European Championship!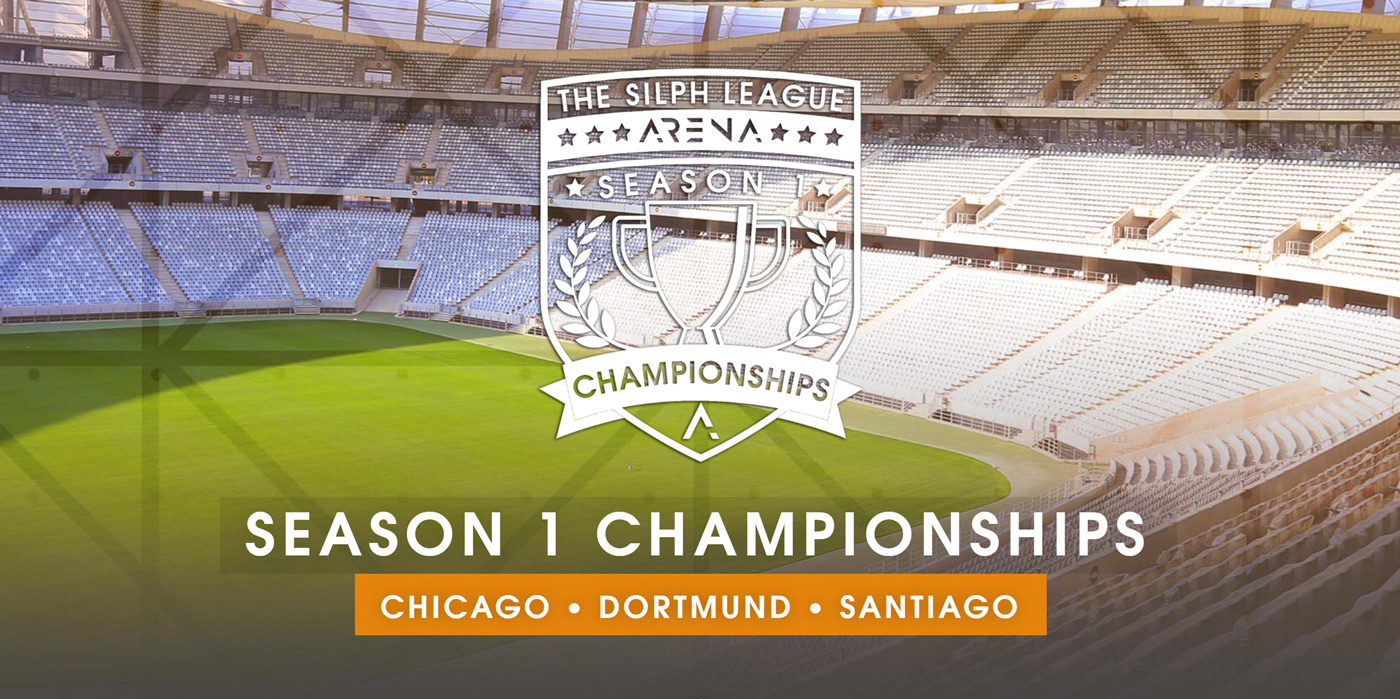 The second leg of the Season 1 Arena World Championships is almost here! The continent's most skilled battlers will head to Dortmund, Germany to represent their regions and prove their mettle.
Here's everything you need to know if you're heading to Dortmund (either as a competitor or spectator)!
Thursday + Friday: Open Qualifiers (Space Limited!)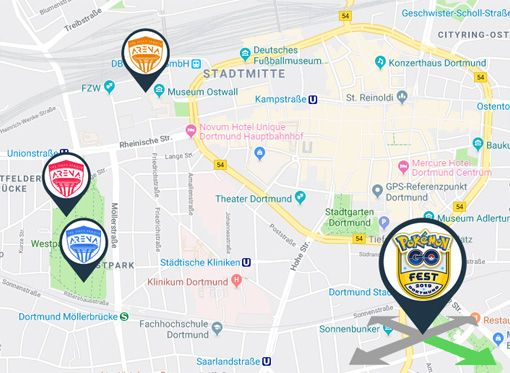 While 64 elite competitors have been invited to compete in the European Championship after conquering their local Regions, there is one final chance to net a wildcard invite to this exclusive group: the Open Qualifier!
RSVP – Space is limited!
Due to Dortmund Parks' restrictions, the Arena cannot gather in organized groups larger than 50 persons. So here's what competitors need to know:
7 Open Qualifier tournaments will be held Thursday and Friday, July 4 – 5
Each tournament will have 46 participants (6 rounds!) and will take place in different locations in Dortmund
RSVP's are required and may go quick! After the 46 spots are filled, you will be placed on a waitlist. No-show's will be removed and the next on the waitlist will be permitted to check-in.
Qualifiers follow Jungle Cup's rules and will weight rank effects similarly to a Cup's (but will not count as your weighted Cup for the month).
The winners of each Qualifier will face off in a knockout round Saturday morning at 9:00am to determine who will receive the wildcard spot(s) for the European Championships that night, and priority for alternates.
Additional locations may be announced if demand is extraordinarily high – stay tuned for more information.
Qualifiers Schedule:
The Arena is hosting seven Open Qualifiers at the locations and times below. RSVPs will open Friday (June 28) at 18:00 UTC! (So check back Friday!)
Note: you cannot RSVP for more than one Open Qualifier – you must un-RSVP and RSVP anew, losing your position in any waitlist.
The stakes are high and the competition will be fierce, so RSVP quick, prepare yourself, and bring your A-game!
Saturday 17:00 – European Championships Group Stage (Competitors Only) The 64 invited competitors (and the winners of the Wildcard Knockout round) will compete in the Group Stage of the European Championship in a competitors-only event beginning at 17:00 sharp (local time) on Saturday. Competitors should plan to arrive 15-20 minutes early, and will be emailed detailed competitor information later this week. Arena VIPs are welcome to attend this event.
The final list of qualifying invitees has been included at the bottom of this page! Find your Region's Representative in the list at the bottom of this page and let them know you're counting on them to represent you well.
Saturday 20:30 – European Championships Finals (+ Viewing Party!)

The 8 finalists who survive their Group Stage and the subsequent knockout round(s) will face off in the continent's fiercest single-elimination tournament – the European Championship Finals! Round 1 begins at 21:00 (local time) Saturday night and will be played in front of a live audience at the Radisson Blu Hotel right across from Westfalenpark!
Viewing Party – Space Limited!
Ticket Price: €15 – Pre-purchase only. (no walk-ins)
Ticket Sales: Purchase tickets HERE (until we hit capacity!)
VIP Package Price: €100
VIP Package: Purchase HERE (limited quantity)
Unlike the huge after-party coinciding with the Chicago's N. American Championship, our European Championship will be a more focused and intense event: a viewing party seating no more than about 200 spectators, 15 VIPs, our judges and stream production crew, and the top 8 Finalists!
Tickets to the European Championships viewing party will go on sale Friday (June 28) at 19:00 UTC until they are sold out. There will be no walk-in spectators admitted at the event – tickets will be required. A one-time QR code will be emailed to spectators for speedy admittance. (Which should make Chicago's queuing troubles a thing of the past!)
Doors open 30 minutes before the first round begins at 21:00 (local time), so plan to arrive at 20:30-20:45! Those with QR code tickets will be admitted, have their hand stamped, and will be given two drink tickets (for canned soft-drinks/beer). Additional information about the viewing party's other activities can be found here – but in general, remember that this event is intended for PvP enthusiasts! Familiar YouTubers will be shoutcasting (Nick from TrnrTips, PogoKieng, potentially Zyonik – if he's eliminated!) and yes the amazing PKMNMasterHolly will MC our in-person program, but don't anticipate an arcade, bowling, or pizza at the viewing party! There's no side-party this round, just a seat to watch the toughest PvP competitors in Europe throwing down!
Live Championship Coverage
If you can't make it to the viewing party, tune in live at 21:00 local (19:00 UTC) for the European Finals live-stream hosted by some familiar Arena commentators on the Arena's official Twitch channel: https://www.twitch.tv/silphleague. While we'll be light-staffed (due to the bulk of the Arena's core team being based in N. America), we hope to have stable coverage in Dortmund, and are doing everything we can to get a solid stream out for the fans back home to enjoy!
But just in case… the Arena will also have live-coverage of each matchup on the Arena's subreddit (/r/TheSilphArena) and our Twitter feed (@SilphGG) simultaneously! Our first priority on the ground will be continuing the Finals matchups, so should networking issues arise, you'll be able to follow along on those additional social channels – and videos of the epic matchups will be posted after the event concludes! (Send our production team good vibes as they work hard to show you the greatest PvP face-offs in Europe.)
——
What a weekend it will be! We hope you will join us in wishing all our Region Representatives the best of luck in what may be the most competitive battles of their careers to-date! And remember, only one Champion can emerge…
See you in Dortmund!
– The Arena Team –
---
Season 1 European Championship Invitees
The following competitors have qualified for and are invited to compete in the Arena's Season 1 European Championship in Dortmund. Find your Region's representative and let them know you're rooting for them!
« More