« More
The Silph League Arena
Arena Update
Apr 9, 2021:

Arena Factions: Team Pages and Registering Your Team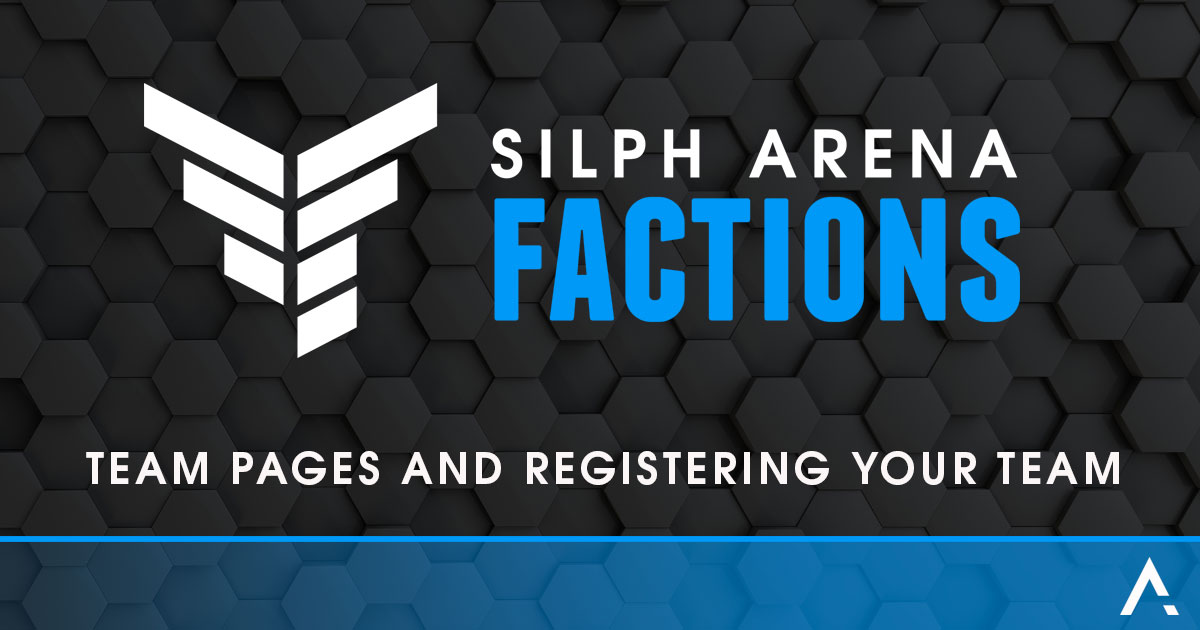 The moment you've been waiting for is almost here! Soon, you'll be able to create your very own Faction and register for the Arena Factions preseason. Faction creation is OPEN NOW!
But first, we're here to tell you all about team pages, your hub to create, edit, and invite members to your team. Here we go!
What is a team page?
Team pages are the central hub for each individual Faction. You can view a Faction's members and positions, check their record, find links to their social media accounts, and more.
In its first iteration, the team page will show each competitor and their position on the Faction, as well as their current tier in the Silph Arena season. It will also display each player's individual battle record for that Cycle.
The page will also display your Faction's logo, name, and a basic description. You can also share links to the Faction's social media accounts, including Twitch, YouTube, Instagram, Twitter, Facebook, and website. Finally, it will show the battle record and which conference you are battling in.
Creating your Faction
It's time to create your very own Faction! The one who actually creates your Faction and its team page is the Faction Owner. Owners will be able to edit the team page, invite and remove members of your Faction, and register the Faction for upcoming Cycles. The Owner must have a Travelers Card in order to create the Faction, but they do not need to be a rostered member. In other words, the Faction Owner can be a purely administrative member of the Faction that does not participate in battles. A person can also be the Owner of multiple Factions.
To create a Faction, head to the Arena Factions page and click the "Create a Faction" button. Fill in your Faction name and description, upload a logo, and select your conference and country. And that's it, you have a Faction and you're ready to start inviting members!
Building your Squad
Once you've created a Faction, it's time to start inviting team members. Owners can invite new members by selecting any open slot and entering a competitor's Trainer name. This will generate an invite link for the Owner to send to the prospective member.
Once your roster is filled out, it's time to select a team captain. Captains can be any member of the Faction (including the Owner, if they're also a rostered member), and will be the only member able to assign positions and swap in the substitute at the start of a bout.
Competitors must be ranked in the Silph Arena in order to be a member of a Faction. If you previously self-opted out of ranking but still wish to compete in Factions, please send an email to team@silph.gg with the subject line "Opt In Factions" and a link to your Travelers Card. Only those who self-opted out of rank are eligible to participate in Factions, those who were de-ranked by the Arena for GPS manipulation or other infractions are ineligible and must remain unranked.
Important Dates
Below are the important dates leading up to the start of the preseason and the public premier of Silph Arena Factions:
April 15: Faction creation opens
April 25: Registration for the first Preseason Cycle opens
May 3: Preseason Cycle 1 begins!
At long last, the start of Factions is almost here. It's time to build your squad and prepare to battle!
« More